In order to give profit back to GN masses of users, now GN have 5 sets of shale shaker & 4 sets of mud cleaner in stock for fast sale. The customer who can give orders ranking in top ten customer within August, 2014 can get 30% big discount, much cheaper than original price.  The customer can only buy 1 set shale shaker or 1 set mud cleaner. Limited quantity available, quick to response if you want to buy.
Five sets of drilling fluids shale shaker
The shale shaker in stock is oilfield solids control shale shaker, large treating capacity 600gpm shale shaker GNZS594E-HB. This shale shaker with 4 panel Swaco Mongoose shaker screen is substitute goods for Swaco 4 panel shaker or Derrick 4 panel shaker. See below technical paratmers:
Model name: GNZS594E-HB
Role:  used for oil drilling rig mud system, eg. 750hp workover rig mud system, 1000hp oil drilling rig mud system, 1500hp oil drilling rig mud system, 2000hp oil drilling rig mud system, 2500hp oil drilling rig mud system. Also can be used for geothermal drilling rig, shale gas drilling rig etc. unbalanced drilling rig.
Capacity:  600 gallon per minutes handling capacity make this shale shaker outstanding from other model. The 4 panel shaker screen contribute to the large screen area 2.7261cbm.
Shaker screen: shaker screen is a wearing parts. GN can offer Swaco mongoose shaker screen with good quality and reasonable price. The customer can buy some in stock for fast use or fast sale to other friends.
One year spare parts: GN Shaker screen with small spare parts can simplify the operation of shale shaker, time saving and cost saving.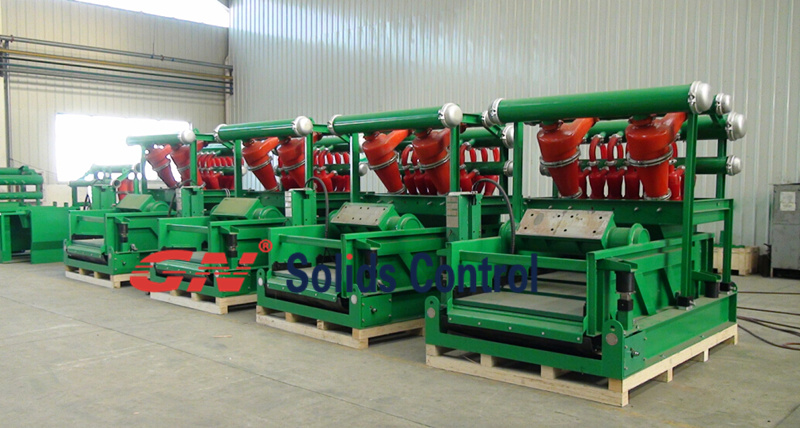 Four sets of drilling fluids mud cleaner
The mud cleaner is matched with shale shaker when working in rig sites. GN mud cleaner for sale with large discount is GNZJ594E-2S12N. Read more to follow:
Model name: GNZJ594E-2S12N
Role: used for oil drilling rig mud system, it should be used after shale shaker. 2 sets of GNZS594E-HB Shale shaker can match with 1 set GNZJ594E-2S12N Mud cleaner.
Capacity: 1000 gallon per minutes handling capacity.  the mud cleaner is combined with one shaker, 2 desander cones & 12 desilter cones. Other frame parts are for connection and support.
Shaker screen and one year spare parts is almost same as shale shaker.
GN Solids Control shale shaker & mud cleaner have been widely used in many areas of the world. Popular big customers like PDVSA, ONGC, KOC, CNPC, CPP, SINOPEC, ECDC……
3 Pings to "Shale shaker & Mud Cleaner in stock for Fast SALE"
Shale shaker & Mud Cleaner in inventory for Quick SALE | Posts Says:
August 17th, 2014 at 5:41 pm

[…] Shale shaker & Mud Cleaner in stock for Fast SALE is a submit from: Mud Solids Control Equipment […]

1000gpm Twin Connection Shale Shaker | Posts Says:
August 21st, 2014 at 5:10 am

[…] Shale shaker & Mud Cleaner in stock for Fast SALE With a purpose to give revenue again to GN plenty of… […]

Shale shaker & Mud Cleaner in inventory for Quick SALE | Posts Says:
August 25th, 2014 at 1:46 am

[…] Shale shaker & Mud Cleaner in stock for Fast SALE is a publish from: Mud Solids Control Equipment […]
Leave a Reply