About 5 years ago, one old client from India bought 2sets complete mud tank system for their oil drilling rigs. During the past years, we continuously support the client with timely after sales service, and offer requested spare parts in shortest time. The client knows GN many years, and IS satisfy with the past experience with GN. Recently, the client get new project and want to renew the mud tank system. New order of several sets shale shaker & mud cleaner issued to GN, including some centrifugal pump, shear pump, mud hopper, mud agitators etc.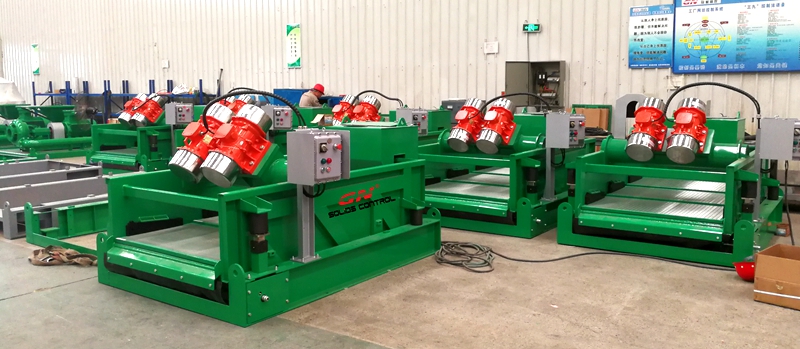 1) GN patent design shale shaker, angle adjustment while working, Mechanical angle adjustment with reliable performance and lower power consumption. While, other China brand don't have this function.
2) Shale shaker bottom deck made from stainless steel for longer lifetime. While, other China brand may use carbon steel, the lifetime is not longer as stainless steel.
3) GN only source from top quality raw material. The vibration motor we use Italy OLI brand or US Martin brand motor, much better performance. While, other China brand may use not famous brand vibration motor.
4) GN shaker model is equivalent to SWACO Mongoose shaker or Swaco pro shaker. With composite material shaker screen, better conductance, better non blanked area and better capacity.
5) GN shaker screen
Regarding the production of shaker screen, GN Solids have several automatic production line with robot welding. The consistency is much better than other China screen companies.
Except manufacturing screen for GN Solids shale shaker, we are also professional to offer screens for US brand shale shakers. For example:
Replacement screen for Derrick FLC500/2000 shale shaker / mud cleaners
Replacement screen for SWACO mongoose shaker / mud cleaner
Replacement screen for NOV brandt king cobra / venom / VSM300 shale shaker / mud cleaner
Replacement screen for FSI500 shaker or FSI5000 shale shakers
All above GN sole features are important reasons why the client choose GN Solids Control. Especially for big orders, we strongly recommend client to come to China, and check GN Solids factory. Seeing is believing, we have confidence the client can make wise decision after factory inspection.
Leave a Reply