Submersible slurry pump also called pit pump, usually installed in pit or mud tank vertically to transfer the mud from the pit/mud tank to shale shaker or other solids control equipment. Compared with centrifugal pump, the pit pump impeller is more anti-wearable. Even when there are some big particles in the mud, the pit pump can still work well with longer lifetime.
Recently, we got big order from overseas client requiring 10sets submersible slurry pumps. The client had good experience with GN slurry pump about two years before, and he trust GN slurry pump working performance. After the client get the contract, he came to GN Solids factory to check our new factory, new production facilities, new office building and new warehouse. The client was amazing with the fast development of GN Solids in past two years. Orderly management, hard work and good product bring GN the prosperity.  The client signed purchase order with GN Solids before he went back to his country. Except for the slurry pump, the client also bought some sets of centrifugal pumps, shear pump and screw pump etc.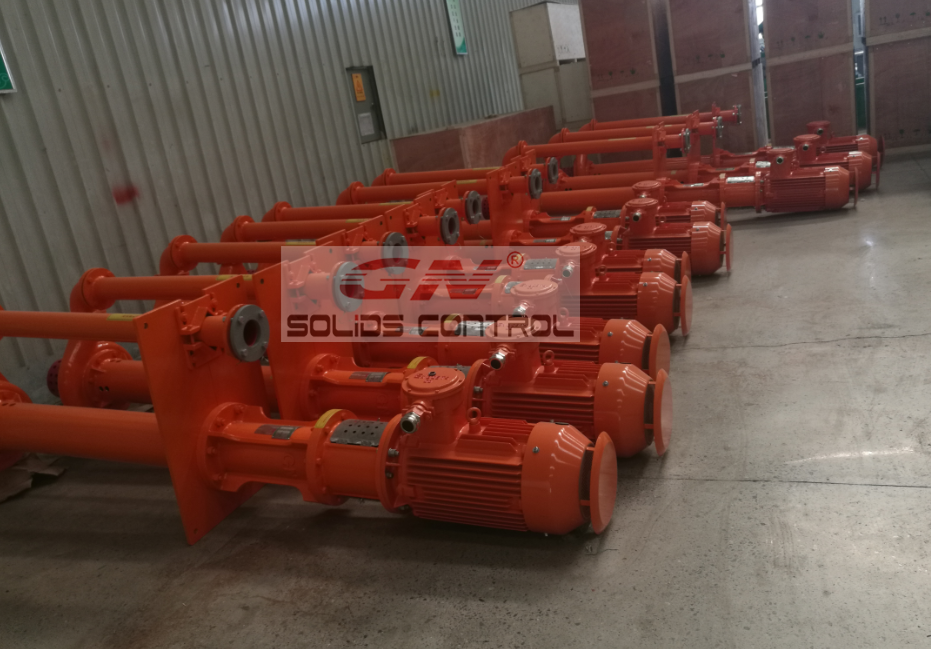 Main advantages of GN slurry pump/ pit pump:
Vertical pump structure of single stage and single suction, much easier for operation and maintenance.
The pump shell without bearings, without seal, the greater medium of solid particles is also accepted.
The submersible length can be normally 800mm to 2000mm, or customized as per clients's request.
Centrifugal pump is normally used for feeding the desander cyclones or desilter cyclones, or used to transfer the mud from one place to another. Each rig site require lots of transfer pumps to connect all the mud tank system.
Main advantages of GN centrifugal pump:
The pump casing and pump impeller is produced by spheroidal graphite cast iron; much better than gray cast iron.
GN centrifugal pump is completely replacement to Mission pump in all spare parts.
GN centrifugal pump mechanical seal pump
If you are interested with GN slurry pump / centrifugal pump / shear pump / screw pump, pls contact GN Solids freely.
Leave a Reply