Russia is a rich market for oil & gas drilling. With local base, office with warehouse, the Russia market will be easier to support. GN Solids Control, as China top company for solids control & waste management equipment manufacturer, has set up Russia office one year after America branch office. After that, GN got big order from Russia Baker Hughes with 4 complete sets of drilling cuttings treatment system ( 4 Vertical cuttings dryer + 4 high speed decanter centrifuge).
Recently, GN Solids Control got another order from Russia Drilling Company. They buy 4 sets of high speed centrifuge and 4 sets of screw conveyor for solids control mud weight cutting.
GN High speed decanter centrifuge for solids control
Model:  GNLW363CG
Type:   High standard centrifuge & high speed centrifuge & fixed speed centrifuge
Speed:  3200rpm. The user can get other speed 2200rpm/2500rpm/2700rpm by change pulley with belt.
Bowl material: Bowl Cylindrical and Conical section made from Duplex Stainless Steel 2205 by centrifugal casting
Other parts: Other Parts of the bowl assembly material: stainless steel SS316L
Pls see more from GN decanter centrifuge: http://www.gnsolidscontrol.com/decanting-centrifuge/
GN high speed centrifuge for water based mud, jobsite working video: http://www.gnsolidscontrol.com/video/water-based-mud-decanter-centrifuge-argentina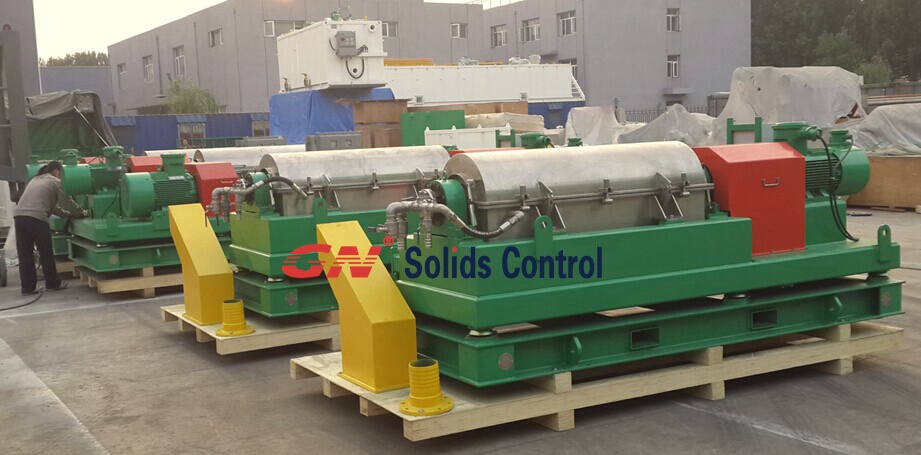 GN Screw conveyor for solids control
Model: GNSC12A-24
Screw dia:  12inch
Screw length: 24feet
Match motor:  7.5kw
Speed: 60rpm, the user can change the speed with one separate VFD small control panel. The adjustable speed can be from 10 to 60rpm.
Except for solids control centrifuge and screw conveyor, we also have many Russia customer who buy Vertical cuttings dryer, High-G dryer shaker, Shale shaker and traditional solids control equipment from us. Like Baker Hughes in Russia, TEK in Russia, BKE in Russia, they are all big buyers and solids control service companies. With their help, GN equipment is being used in many drilling rig site.
Even, some drilling contractor buy from middle buyers, we can also offer jobsite equipment test service per their requirements. Within 7 days, the manpower is for free. Generally, decanter centrifuge and vertical cuttings dryer need to be tested by original manufacturer. Other traditional solids control equipment, like shale shaker, mud cleaner, agitator, mud gun, centrifugal pump etc. No need commissioning service and it is easy to operation.
One Ping to "High speed centrifuge and Screw conveyor for Russia"
Excessive velocity centrifuge and Screw conveyor for Russia | Posts Says:
March 24th, 2015 at 4:15 pm

[…] High speed centrifuge and Screw conveyor for Russia is a publish from: Mud Solids Control Equipment […]
Leave a Reply