Chinese Spring Festival of New Year is coming very soon. GN Solids Control will shut down the factory during the holiday for about two weeks. After 4th of Feb, we shall come back to office. No worry, GN sales will be reachable any time, even in the holiday.
It is the time to see the New Year in and see the old year out. At this point, we want thanks for all people who help the growth and development of GN Solids, especially for GN partners and clients. With the purchaser order and support from partners and clients, GN can grow into China leading solids control brand, to serve more company and service for more projects.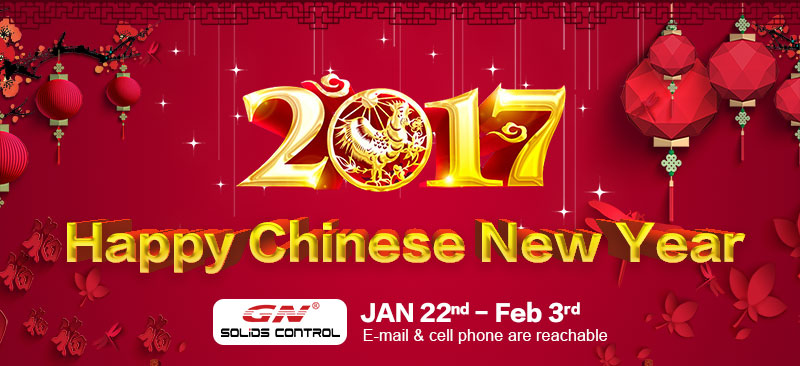 About solids control equipment tender
When there is a tender, at least three solids control brand will compete to win the tender. What is the GN advantages when competing with US brand or other China brand ?
1) The first advantage of GN is on solids control equipment tender. Our sales people have strong reading ability to thick documents with quite a few pages, picking out the important parts, discuss about it and offer correspondence.
But GN generally doesn't bid for overseas tender directly. We can support local company and the client can bid for tender in name of local company, but with technical support / commercial support from GN Solids Control.
2) GN can offer the most higher cost-effective solids control equipment from China. GN marketing position is only focus on high end client, with international standard products. Compared with US brand, GN can offer similar performance equipment with much better price. Compared with other China supplier, GN solids control product surely can work much better, no compares.
About registration to big companies
In the past years, GN Solids already successfully registered to many big drilling companies/ oil service companies. GN is registration supplier for CNOOC, PDVSA, NIDC, PDO, EDC, BAKER HUGHES, BAROID, etc.
In the New Year, we will be ready to register into supplier for more companies.
Leave a Reply