Shaker and mud cleaner is the most common item in solids control system. With high reliable shaker and mud cleaner, the mud system can work in higher efficiency, less maintenance, longer lifetime. GN shale shaker and mud cleaner, have been working for oil and gas drilling almost 10 years. With rich production experience combining with jobsite commissioning experience, GN have optimize the shaker and mud cleaner, make them much user friendly and high efficiency.
GN Solids Shale Shaker
GN Solids shaker have different models for option, including
2 panel shale shaker for mining/diamond drilling/ other small well drilling
3 panel shale shaker for CBM drilling/HDD drilling/Workover rig / Oil drilling etc.
4 panel shale shaker for oil and gas drilling, usually for deep well drilling rigs. This model GNZS594E-HB screen size is same as Swaco Mongoose screen. We can offer both composite material shaker screen and carbon steel frame shaker screen. After some years jobsite experience, composite material shaker screen can work better performance, and longer lifetime. Price of composite material screen is little higher than steel frame screen, but more cost-effective.
GN Solids Mud Cleaner
Mud cleaner is assembly of shakers, frameworks with desander cones and desilter cones, smaller footprint, and same function. Some client may not need the deck shaker, and we can offer the frameworks with desander cones and desilter cones. This is totally can be customized according to client's need.
GN Solids mud cleaner model is decided by the model of shale shakers. We also have three models:
Option 1: no shaker mud cleaner. Desander, desilter or assembly of desander and desilter
Option 2: Mud cleaner with 3 panel shaker
Option 3: Mud cleaner with 4 panel shaker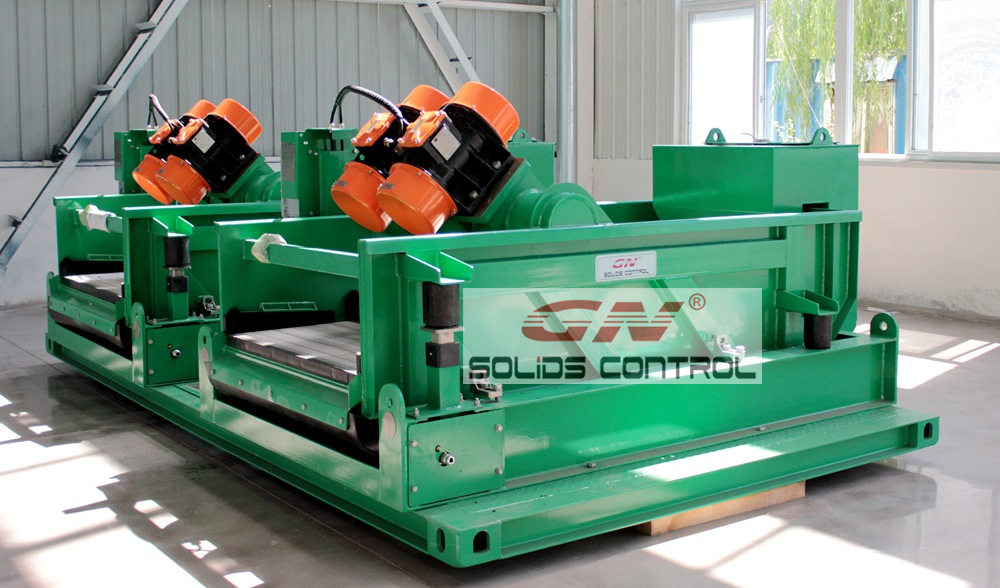 Sometimes, the selection of shaker is depending on the tender requirements. If the client buy and use it for themselves, they can choose better and lower cost models.
Welcome to GN Solids Control for any consultant for Solids Control questions.
Warning
: chmod(): No such file or directory in
/www/wwwroot/oilfield.gnsolidscontrol.com/wp-includes/plugin.php(390) : runtime-created function
on line
1
Warning
: chmod(): No such file or directory in
/www/wwwroot/oilfield.gnsolidscontrol.com/wp-includes/plugin.php(397) : runtime-created function
on line
1
Warning
: chmod(): No such file or directory in
/www/wwwroot/oilfield.gnsolidscontrol.com/wp-includes/plugin.php(402) : runtime-created function
on line
1
Warning
: chmod(): No such file or directory in
/www/wwwroot/oilfield.gnsolidscontrol.com/wp-includes/plugin.php(410) : runtime-created function
on line
1
Warning
: chmod(): No such file or directory in
/www/wwwroot/oilfield.gnsolidscontrol.com/wp-includes/plugin.php(415) : runtime-created function
on line
1
Warning
: chmod(): No such file or directory in
/www/wwwroot/oilfield.gnsolidscontrol.com/wp-includes/plugin.php(423) : runtime-created function
on line
1
Leave a Reply