Trenchless technology Specialized Committee of China Geological Society (CSTT), The twenty-first China International Trenchless Technology Conference and Exhibition (ITTC2017) (21 Annual Conference) will be held from April 2017 to 16 in Jiangsu, Suzhou International Expo center. ITTC conference is the top international event in the field of trenchless industry, which has been held in North China, East China, Southern China and other places 20 sessions. The twenty-first CSTT annual meeting will be held in Suzhou, JiangSU province. This will provide technical exchange and business platform for trenchless equipment manufacturer, engineering contractors, and owner of projects.
Conference time: April 14th to April 16th, 2017
Address: International Expo center of Suzhou, Jiangsu Province
GN booth No.: B20
GN equipment shown: desanding plant, mixing unit etc.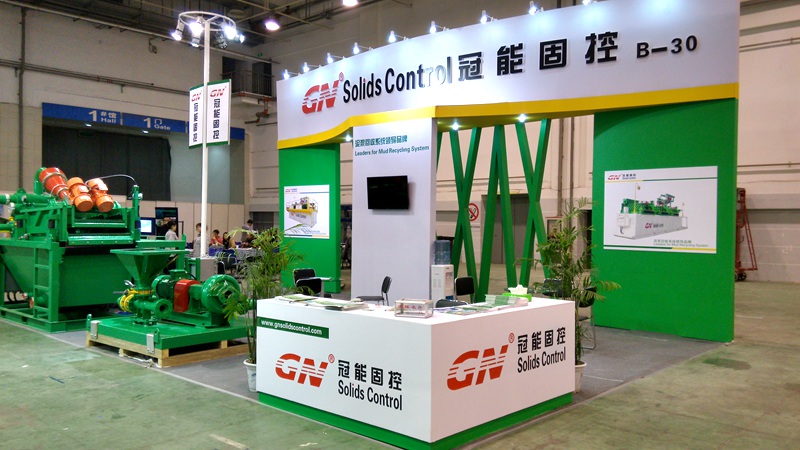 As China leading separation equipment manufacturer, GN Solids will attend the trenchless conference with the latest model desanding plant, mixing unit etc. Desanding plant is used for simple HDD project, piling, mining, TBM machine etc. GN Solids have three model desanding plant for option, 200gpm capacity, 500gpm capacity and 1000gpm capacity.  The desanding plant is compact design of double deck shaker, cyclones, and this unit can remove the big solids particles from mud, and return the clean mud back for reuse.
Our desanding plant have been exported to South Africa, Israel, Egypt, Saudi Arabia etc. The working performance can satisfy most of the jobsite requirements.
If you have big project, and need higher treating standard for drilling mud, we recommend you high standard mud system for better performance.  The higher standard mud system generally contain:
Shale shaker for first stage separation, to remove the +100 microns solids
Mud cleaner with desander cones & desilter cones, to remove the +30 microns solids.
Decanter centrifuge to remove the +5microns solids; Normally, middle speed centrifuge is enough to work for trenchless project.
If you have project requirement, pls send us your technical requirement, and commercial budget. Then, we can offer proper solution.
Warning
: chmod(): No such file or directory in
/www/wwwroot/oilfield.gnsolidscontrol.com/wp-includes/plugin.php(390) : runtime-created function
on line
1
Warning
: chmod(): No such file or directory in
/www/wwwroot/oilfield.gnsolidscontrol.com/wp-includes/plugin.php(397) : runtime-created function
on line
1
Warning
: chmod(): No such file or directory in
/www/wwwroot/oilfield.gnsolidscontrol.com/wp-includes/plugin.php(402) : runtime-created function
on line
1
Warning
: chmod(): No such file or directory in
/www/wwwroot/oilfield.gnsolidscontrol.com/wp-includes/plugin.php(410) : runtime-created function
on line
1
Warning
: chmod(): No such file or directory in
/www/wwwroot/oilfield.gnsolidscontrol.com/wp-includes/plugin.php(415) : runtime-created function
on line
1
Warning
: chmod(): No such file or directory in
/www/wwwroot/oilfield.gnsolidscontrol.com/wp-includes/plugin.php(423) : runtime-created function
on line
1
Leave a Reply