We got the purchase order of GNMS-1000D desanding plant with PU screen, and other spare parts in last month. After about half month manufacturing, all materials are ready for delivery.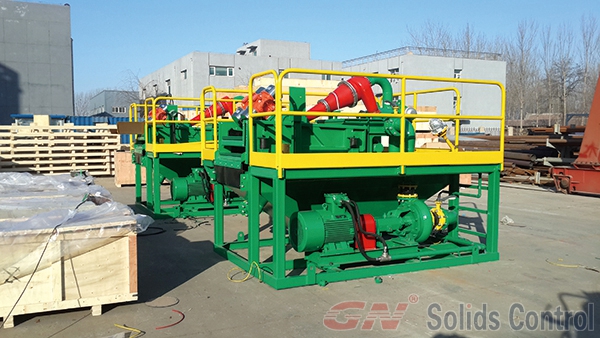 How will the client use the desanding plant ?
Normally, the client should have submersible slurry pump; the slurry pump can be put into slurry pit vertically, to feed the deanding plant. After the slurry go into desanding plant, the slurry will be screened by the up down deck first with 2mm opening screen. Then, the big solids will be separated out of system and discharged to ground, or to cuttings box. The slurry will go down to catch tank under the double deck shaker.  Then, the centrifugal pump will pump the slurry to cyclones and clean slurry go out to next storage tank for reuse, and the dirty slurry go down to the up deck screen with 0.3mm or 0.5mm opening screen.
Regarding screen, normally we can offer carbon steel screen, composite material screen and PU screen. Most of client will choose carbon steel screen or composite material screen as the better price. And some other client will choose PU screen with much longer lifetime, no need to replace screen in short time.
GN desanding plant models:
GNMS-1000D desanding plant is 1000gpm with 2ea 10inch cyclones. The centrifugal pump is 55kw pump with 1200gpm treating capacity. And the double deck shaker is GNZS705 shaker with 2ea up screen and 3ea down screen.
GN can also offer GNMS-200D desanding plant with 200gpm treating capacity and 500gpm desanding plant with 500gpm treating capacity.
GN Solids is China leading brand for separation equipment. The equipment can be used for oil drilling, Horizontal direction drilling, geothermal drilling, mining, piling, tunneling, etc.  The treating capacity and configuration of mud system may vary per the application industry, and specific requirement from the end user.
Leave a Reply