GN Solids Control is leading manufacturer for Vertical cuttings dryer ( Verti-G dryer) & decanter centrifuges, which are key equipment for solids control & drilling cuttings treatment. Up to now from 2012, we already exported over 300 sets centrifuges & 50 sets vertical cuttings dryer to international oil drilling field and domestic drilling companies. The premium performance and reasonable price win good reputation for GN Solids Control.
Recently, our after sales team just come back from an Africa Drilling Company rigsite.( We call it ADC in this chapter). ADC is a drilling company with 7 land drilling rigs and all the rigs is under drilling process. From 2013, ADC contact our company and visit our factory (location is close to Beijing) many times. After that, ADC issue many big orders to us, totally including:
1) 5 sets Verti-G dryer for drilling cuttings treatment, attached with:
5 sets high skid to install the vertical cuttings dryer,
5 sets screw pump for flushing the Verti-G dryer,
15 sets screw conveyor to transfer drilling cuttings for feeding or for discharge.
5 sets one year recommended spare parts.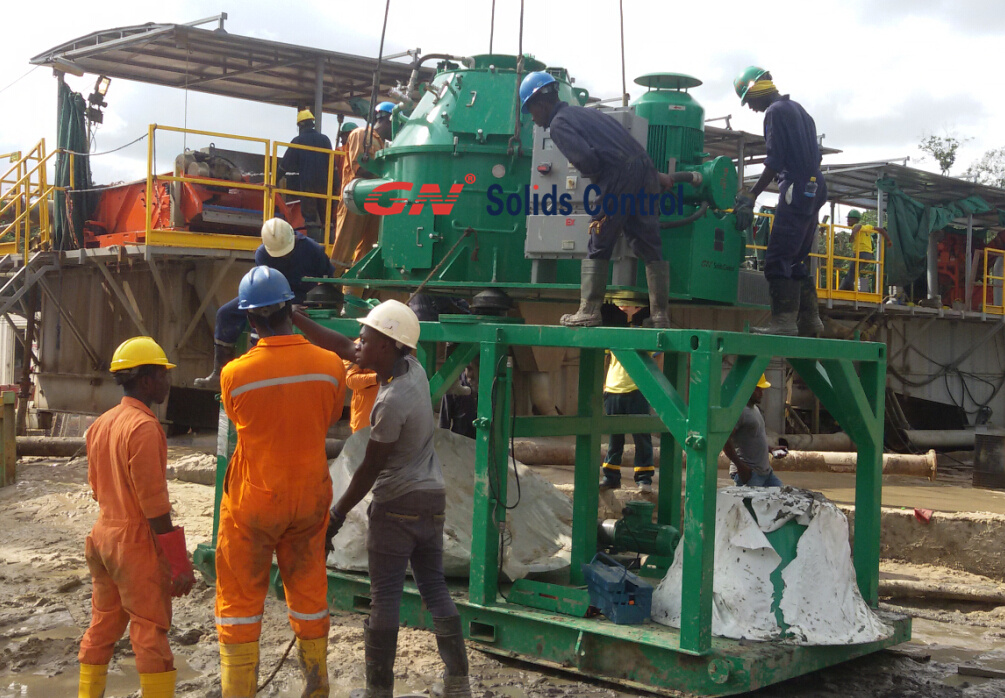 2) 14 sets decanter centrifuge for drilling mud solids control, attached with:
28 sets screw pump for feeding decanter centrifuge
14 sets one year recommended spare parts.
3) 1000pcs replacement shaker screen for Derrick shale shaker / MI-Swaco mongoose shale shaker.
Formerly, ADC rent centrifuge service / Verti-G dryer service from Third Party Service Company. To reduce long term production cost, they choose to buy equipment from us and use their own people to do the job well. As they own the equipment, the use time is much flexible and surely, the total cost in long term is much lower that rental service.
GN Solids Control is China No.1 brand solids control equipment supplier. We only top on high quality equipment with reasonable price. With many years experience, the performance of GN products is almost same as US products. Meanwhile, we offer guaranteed after sales service to train the buyer engineers, to make sure the equipment correct operation.
Warning
: chmod(): No such file or directory in
/www/wwwroot/oilfield.gnsolidscontrol.com/wp-includes/plugin.php(390) : runtime-created function
on line
1
Warning
: chmod(): No such file or directory in
/www/wwwroot/oilfield.gnsolidscontrol.com/wp-includes/plugin.php(397) : runtime-created function
on line
1
Warning
: chmod(): No such file or directory in
/www/wwwroot/oilfield.gnsolidscontrol.com/wp-includes/plugin.php(402) : runtime-created function
on line
1
Warning
: chmod(): No such file or directory in
/www/wwwroot/oilfield.gnsolidscontrol.com/wp-includes/plugin.php(410) : runtime-created function
on line
1
Warning
: chmod(): No such file or directory in
/www/wwwroot/oilfield.gnsolidscontrol.com/wp-includes/plugin.php(415) : runtime-created function
on line
1
Warning
: chmod(): No such file or directory in
/www/wwwroot/oilfield.gnsolidscontrol.com/wp-includes/plugin.php(423) : runtime-created function
on line
1
Leave a Reply