GN Solids Control Verti-G dryer (vertical cuttings dryer) is verified high quality products in many drilling rig site, like Shell jobsite, Baker Hughes drilling site etc. Even compared with CSI vertical cuttings dryer, in some bad mud cuttings conditions, GN Solids brand Verti-G dryer can also work in high performance. This is also the technology accumulation with many years research, test and jobsite experience.
Last year, we have exported over 10 sets verti-G dryer with screw conveyors to Middle East, the main client is NIDC. As Iran government strict policy on environment protection, GN Solids Control have a big chance to match large quantity of verti-G dryer with screw conveyors for NIDC drilling rigs.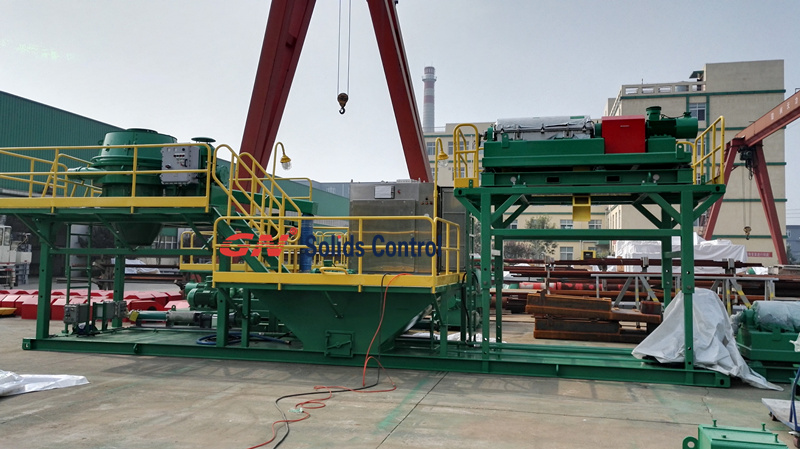 One package of verti-G dryer with screw conveyors including below items:
1) 1 set verti-G dryer (variable speed/ fixed speed model)
The Verti-G dryer with screen basket 0.25mm / 0.35mm / 0.5mm opening, can separate the big particles from drilling cuttings waste and recover the valuable drilling mud. Solids go down to screw conveyor and transfer to skips or plastic bags for collection; liquid parts flow to next stage treatment.
2) Vertical Cuttings Dryer Telescopic Skid
Operation Dimension: 5790x2700x3670mm; Transportation Dimension: 5790x2306x2010mm;
Flushing pump (4kw screw pump) also installed on the skid for flushing the vertical cuttings dryer during working or after use. Mainly flush the opening on the screen basket and liquid outlet channel.
Cantilever crane install on the skid for vertical cuttings dryer maintenance operation. Eg. the crane can be used when replace screen basket or upper Shell cover of the Verti-G dryer.
3) Screw conveyros
The screw conveyor can collect the drilling waste and feed for the vertical cuttings dryer. The screw conveyor can transfer the solids discharged from vertical cuttings dryer to skips or other containers.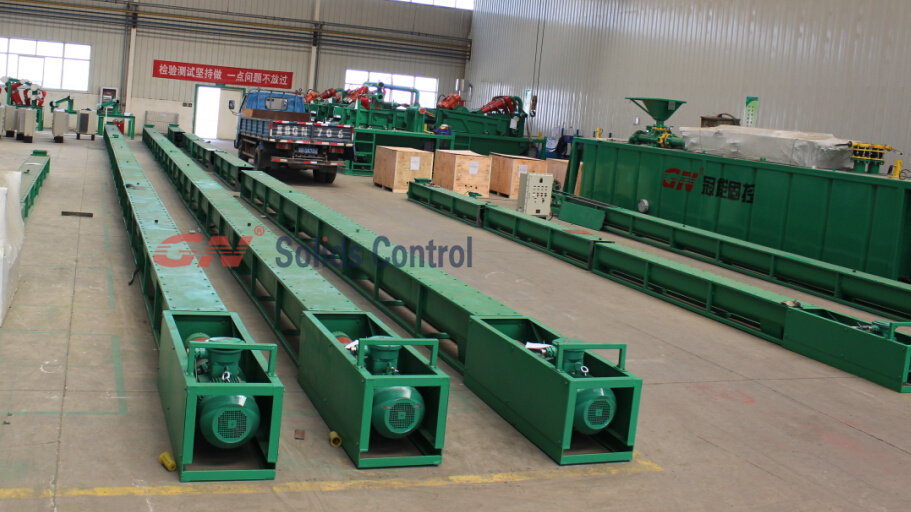 After treated by Verti-G dryer, where is the recovered drilling mud go? This depends on the clients's conception on how to manage the drilling cuttings and also the budget of clients. At rigsite, I found 2 options:
1)  The drilling mud can go back to active tank before mud cleaner; anyway, there are desander, desilter, centrifuges following to treat the drilling mud.
2) The clients may buy one more waste management centrifuge installed after vertical cuttings dryer, professional to treat the drilling mud discharged from vertical cuttings dryer. After the waste management centrifuge treatment, the clean drilling mud can go back to active tanks after centrifuge, no need to flow again from desander, desilter, solids control centrifuge.
3) If not in rigsite, there are some other flexible treatment methods.
2 Responses to "Verti-G dryer with screw conveyor to Middle East"
1. Okafor ikechukwu j. Says:
August 28th, 2015 at 12:18 pm

am working SSENL cooping in nigeria and am ben uesing GN solids controol mancini centrifuge and vertical cuttting dryer is a gud one i link it

2. admin Says:
September 30th, 2015 at 5:27 pm

Thanks for your message, we will always offer best support
Leave a Reply