GN Solids Control Decanter Centrifuge has good reputation in oil drilling solids control and waste management field. Even we have some send hand centrifuge; it can be sold to clients very soon. Second hand centrifuge price is much better than newly centrifuge, quality is not problem. We have one sets second hand centrifuge in USA warehouse, and when we were in Houston for OTC oil show, we meet some clients there and some clients show much interest in the second hand centrifuge. After the clients visited the second hand centrifuge in our Houston, USA, the clients is very satisfied with the work condition of the current centrifuge, and they arrange payment after that soon.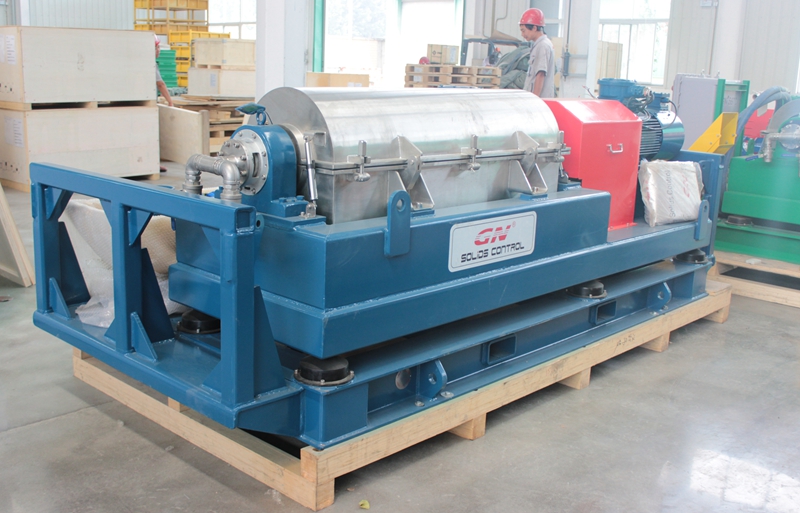 For now, we have another two sets second hand decanter centrifuge for sale in stock in our China office. Decanter centrifuge is necessary equipment working for oil drilling mud system. Most of client will need 2 sets centrifuge for operation. The dual centrifuge system including one set high speed centrifuge for lower gravity solids removal; one set lower speed or middle speed centrifuge for high gravity solids removal; screw pump for feeding the dual centrifuge will be also concluded, as well as telescopic high skid for installation.
However, the two sets centrifuge are both fix speed centrifuge and generally clients like one set fix speed centrifuge and one set variable speed centrifuge for flexible use at the rigsite. If requested by clients, we can modify one fix speed centrifuge to variable speed centrifuge, replacing the motor to variable frequency motor and replace the fix speed control panel to VFD control panel. Our standard VFD control panel is three VFD control panel for bowl speed VFD, conveyor speed VFD and feed pump VFD. For easier amendent, we can adjust the centrifuge to one VFD only for bowl speed, or two VFD only for bowl speed and conveyor speed.
If you need the second hand centrifuge, pls contact GN Solids Control freely for more information. Thanks.
Leave a Reply