Even in the down time of oil drilling industry, we want to give the best price and fast delivery to client. And we stock about 60 sets high speed decanter centrifuge to satisfy the one year needs for domestic market and overseas market. The decanter centrifuge is 14inch bowl centrifuge, can be used for both solids control project and waste management project. The centrifuge is with certificate; both can be used for onshore drilling project and offshore drilling project. If you have some urgent project, pls contact us freely to get reliable product in short delivery time.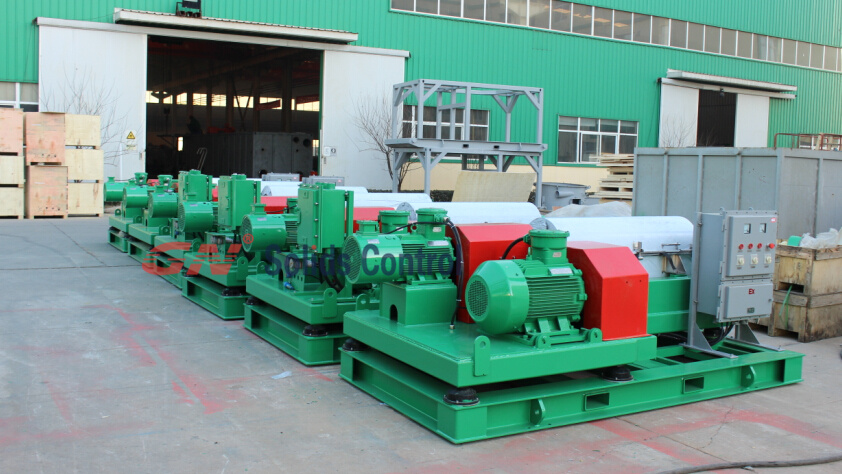 14inch decanter centrifuge- GNLW363C  main technical specifications
1) The centrifuge is equivalent to US brand centrifuge, we have many client formerly use US brand centrifuges, but now they like GN centrifuge because of the high cost-effective products.
2) The centrifuge is with highest configuration and best material for long and reliable service.
3) Bowl Cylindrical and Conical section made from Duplex Stainless Steel 2205 by centrifugal casting, which is much better than SS304 or SS316.
4) Other Parts of the bowl assembly material: stainless steel SS316L. These parts no need SS2205.
5) Screw protection type: Tungsten Carbide Tiles for longer life and easier replacement. The price of this part is also very good, make it more convenient for clients.
6) Screw flow distribution port and bowl solids discharge port protected by tungsten carbide alloy. This idea is similar as the screw protection, reliable and lower cost.
7) Bowl assembly supported by tighten belt for protection of bearing in moving. This is very important, we have many cases in past experience that the bowl damaged because of transportation and delay the client's project. But now, this will not happen.
8) Pressurized EX proof control panel make the centrifuge can be used in high temperature areas, much reliable than flame proof type control panel.
Except for 14inch bowl centrifuge, we also have other type for choice, GNLW223 baby centrifuge, GNLW452 18inch centrifuge, GNLW453 18inch high speed centrifuge, GNLW553 big bowl big capacity centrifuge.
Other solids control equipment:  shale shaker, mud cleaner, mud agitator, centrifugal pump, mud gun, screw pump, vertical cuttings dryer, screw conveyor etc.
Leave a Reply