GN Solids Control have almost 10 years experience in solids control and drilling waste management equipment manufacturing. As China most experienced company, GN put large percent power on the optimization of decanter centrifuge. Without doubt, Decanter Centrifuge is the most advanced equipment in solids control line, play key role for the total system working performance.
GN Solids Control has different stage for the development of decanter centrifuge. After these years hard work, GN Solids Decanter Centrifuge can show much higher working performance compared with other China brand centrifuges. GN have different model centrifuge for option:
9inch bowl small size decanter centrifuge GNLW223 for waste water treatment, this centrifuge can be used for diamond drilling, hall core drilling, mining etc, some small drilling rigs. Together with shaker, the centrifuge can be used to remove solids from waste water, and the clean water can be reused for the projects.
14inch bowl popular size decanter centrifuge for solids control and drilling waste management
This GNLW363CG decanter centrifuge is the most popular model, we can sell about 200sets each year to overseas market. It is mainly used for solids control, working after mud cleaner to remove the fine solids and reduce the mud weight.  Working together with flocculent unit, the centrifuge can remove much fine solids after coagulation and flocculation.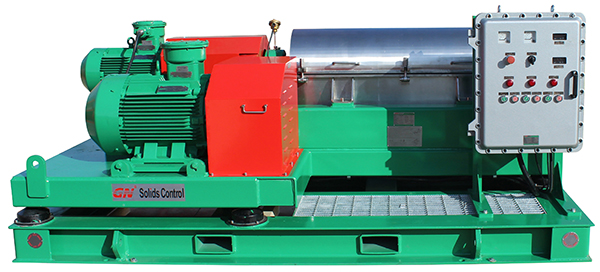 18inch bowl popular size decanter centrifuge with short bowl for barite recover, GNLW452 centrifuge is mainly used for barite recovery, for solids control.
18inch and 22inch bowl popular size decanter centrifuge with longer bowl for solids control and fast drilling mud treatment
If you are from oil drilling field, we recommend you GNLW363CG fixed speed decanter centrifuge or GNLW363CG-VFD variable speed decanter centrifuge for flexible use. This is also the most popular model centrifuge, we have stock in warehouse for fast delivery. We can also offer DNV certificate if the centrifuge will be used for offshore and need helicopter lifting transportation.
Warning
: chmod(): No such file or directory in
/www/wwwroot/oilfield.gnsolidscontrol.com/wp-includes/plugin.php(390) : runtime-created function
on line
1
Warning
: chmod(): No such file or directory in
/www/wwwroot/oilfield.gnsolidscontrol.com/wp-includes/plugin.php(397) : runtime-created function
on line
1
Warning
: chmod(): No such file or directory in
/www/wwwroot/oilfield.gnsolidscontrol.com/wp-includes/plugin.php(402) : runtime-created function
on line
1
Warning
: chmod(): No such file or directory in
/www/wwwroot/oilfield.gnsolidscontrol.com/wp-includes/plugin.php(410) : runtime-created function
on line
1
Warning
: chmod(): No such file or directory in
/www/wwwroot/oilfield.gnsolidscontrol.com/wp-includes/plugin.php(415) : runtime-created function
on line
1
Warning
: chmod(): No such file or directory in
/www/wwwroot/oilfield.gnsolidscontrol.com/wp-includes/plugin.php(423) : runtime-created function
on line
1
Leave a Reply