Recently, we have 4 sets of 500gpm HDD mud system ready for delivery. Two sets of them is for domestic biggest pipeline HDD drilling contractor CPP and another two sets is for Middle East HDD drilling contractor, which have business in Egypt, South Africa, UAE, Saudi Arabia, Oman etc. All of them are GN old customer who have used GN mud system for long time. Like CPP, every year, they buy at least 2 sets from GN Solids Control, which is becoming the most important GN HDD customer. We cherish their feedback and each time make some improvements. Together with CPP, GN Solids Control is becoming the leader manufacturer for compact mud recycling system and mud cleaning system.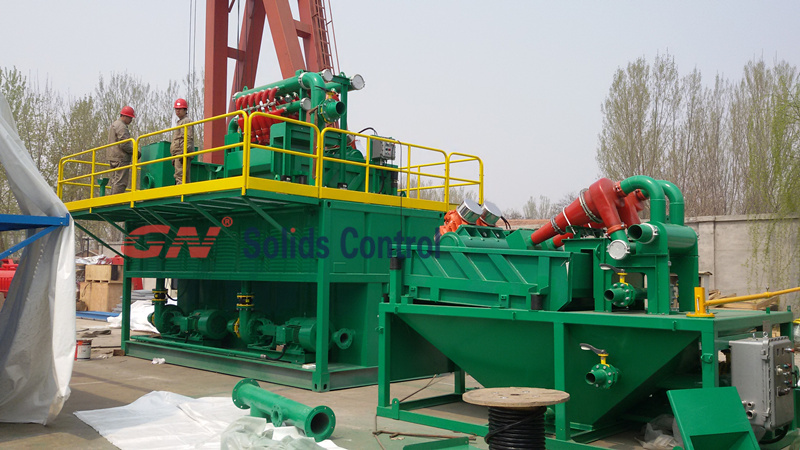 Two sets HDD compact mud system for Middle East HDD contractor, each set including equipment as below:
 1)       1 X Shale shaker GNZS594E-HB, with 4 panel composite material shaker screen, which is replacement for Swaco Mongoose shaker screen. The customer can source it locally for urgent use and buy it from GN Solids Control for stock and use it in very good price.
This shale shaker is with about 600gpm treating capacity, can also work for big oil drilling rigs.
2)       1 X Mud cleaner GNZJ594E-2S12N, with 2 pcs desander cyclones and 12 pcs desilter cyclones and 1 pcs down deck shaker, same as GNZS594E-HB.
This mud cleaner can separate the mud solids above 40 microns with desander parts and above 25 microns with desilter parts.   1 microns = 1 X 10-6 meter
3)       2 X Centrifugal pump, one is feeding for desander cones and the other is feeding for desilter cones.
4)       1 X mud tank with 3 compartments, storage the mud processed in different steps.
5)       1 X electrical control panel which recessed into mud tank for better protection during transporation.
6)       1 X accessories, including walkways, ladders, lights, cables etc.
Two sets HDD mud system for CPP, each set including equipment as below:
Other equipment is almost same as above, like shale shaker, mud cleaner and pumps. However, CPP also ask for 2 sets of centrifuge for better performance. Centrifuge can separate solids about 2-5 microns, which make the drilling mud more clean.
Thanks for reading. For more information, pls contact GN Solids Control.
Leave a Reply