GN Solids Control solids liquid separation decanter centrifuge have been working for oil drilling many years. The stable working performance and reliable life time win good reputation for GN Solids Control. And now we just published three phase  centrifuge for solids, water and oil three phase separation.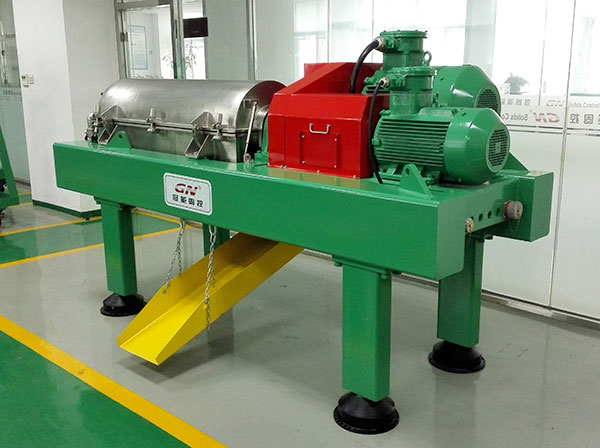 Except for decanter centrifuge and three phase centrifuge, GN main market is still in drilling waste management and solids control equipment.
GN drilling waste management equipment including: vertical cuttings dryer, waste centrifuge, solidification unit, fixation unit, thermal desorption unit, etc. Drilling Waste management equipment is used to treat the solids mixture discharged from shaker, recover valuable drilling fluids for reuse and reduce the waste need to be treated in following stages.
For water based mud, client normal choose High G drying shaker, decanter centrifuge and solidification unit. After treatment of solidification unit, the solids can be buried in cement ponds as final step. For oil based mud, client need to use vertical cuttings dryer, decanter centrifuge, thermal desorption unit. Thermal desorption unit can get cuttings solids with oil below 0.3%, this standard can meet the requirement of most country's government protection policy. Compared with water based mud, OBM cuttings treatment cost is much higher both in equipment expense and operation cost.
GN Solids Control equipment including: shale shaker, mud cleaner, shaker screens, desander, desilter, decanter centrifuges, mud agitator, centrifugal pump, screw pump, mud tanks etc. GN Solids Control mud system can form a close loop mud circulation with drilling rig and mud pumps. After the mud ready for drilling, the mud pump will suck from the mud system and feeding for drilling rig. The mud from drilling rig flowline will go back to mud tank system for cleaning, adjusting and go back to mud pump. The mud tank system generally include four stage mud treatment and will remove particles in different size by different stage, shale shaker stage, desander stage, desilter stage and decanter centrifuge stage. Two phase separation centrifuge is mostly used in solids control system, very few clients choose three phase centrifuge.
Warning
: chmod(): No such file or directory in
/www/wwwroot/oilfield.gnsolidscontrol.com/wp-includes/plugin.php(390) : runtime-created function
on line
1
Warning
: chmod(): No such file or directory in
/www/wwwroot/oilfield.gnsolidscontrol.com/wp-includes/plugin.php(397) : runtime-created function
on line
1
Warning
: chmod(): No such file or directory in
/www/wwwroot/oilfield.gnsolidscontrol.com/wp-includes/plugin.php(402) : runtime-created function
on line
1
Warning
: chmod(): No such file or directory in
/www/wwwroot/oilfield.gnsolidscontrol.com/wp-includes/plugin.php(410) : runtime-created function
on line
1
Warning
: chmod(): No such file or directory in
/www/wwwroot/oilfield.gnsolidscontrol.com/wp-includes/plugin.php(415) : runtime-created function
on line
1
Warning
: chmod(): No such file or directory in
/www/wwwroot/oilfield.gnsolidscontrol.com/wp-includes/plugin.php(423) : runtime-created function
on line
1
Leave a Reply