After have correct connection of hoses and electrical cables, the user need to check the rotating of pump, check the bowl rotation if it is free, check the mud in dirty tank if it is flow ability etc.  After all parts prepare well, we can start the centrifuge test.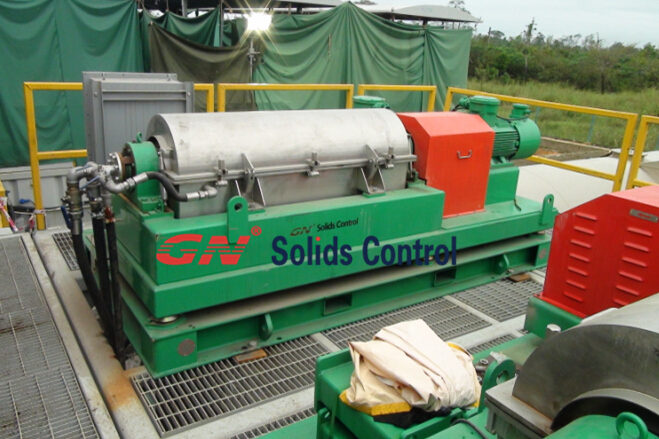 4) Operation steps
How to adjust the centrifuge speed to achieve better results?
How to control the feed pump flow rate when adjust centrifuge bowl speed?
Firstly, start the centrifuge in lower speed; after it working with normal voice, then enlarges the bowl speed which is suitable for the work.
Secondly, after the centrifuge working stable, open the bypass valve. Then, start the centrifuge feed pump, after the centrifuge feeding rate is stable, try to slightly open the bypass valve, but not completely close, at least half bypass should be open.
Thirdly, check the solids discharge and liquid discharge, take some samples and use weighting machine to check the ppg of the clean mud after treatment and dirty mud before treatment. Then, the mud engineer can know the working performance of the centrifuge.
If the client need more dry solids, the user can lower down the feeding rate by simple operation.
If the client need more wet solids, the user can lower down the bowl speed, thus the differential speed also reduced.
The client also can adjust the moon board on the liquid discharge, to change the liquid pool depth, thus to change the dryness of wetness of the solids discharge. GN Solids Control have details user manual for the adjustment operation. Pls contact us freely if you need this support.
5) Switch on / off of centrifuge in correct steps
Firstly, switch on centrifuge, after working stable, then go for next.
Secondly, switch on centrifuge feed pump.
When the work finish, the user need to switch off all parts in correct operation.
Firstly, switch off the feeding pump
Secondly, use clean water feeding the centrifuge at least 15 minutes. After the water discharge become clear, and then stop the clean water feeding.
Thirdly, switch off the centrifuge
If you need more information, pls go for next chapter: Training on the variable speed middle speed centrifuge (1)
Leave a Reply