GN Solids Control also supplies various conveying pumps in the complete set of equipment, including screw pumps, submerged slurry pumps, sand pumps, and solid vacuum conveying pumps.
Among them, the solid vacuum pump is a new technology specially designed for conveying materials with high density, high solid content and good fluidity. Recently, GN Solids Control provided 2 sets of solid vacuum pumps to a European company. One GNSP40B is used for fixed-position transportation; one GNSP20B, this type of vacuum pump has a pulley at the bottom, which can be moved at will, and is used by customers for mobile use.
GN Solids Control vacuum pump is a pneumatic pump that uses air as its power source. It can be used to transport mine tailings, drilling waste, industrial slurry, chemical powder, construction aggregates, oil sludge, kitchen waste and other materials.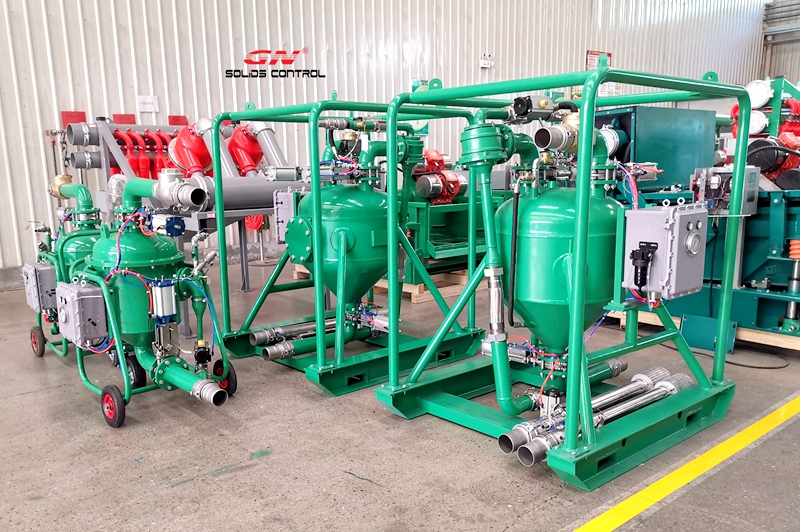 In solid transportation, screw conveyors are conventionally used for transportation, which has short transportation distance and high cost, which cannot be satisfied for long-distance transportation. The vacuum pump has a suction distance of 50 meters for clean water and a discharge distance of 1000 meters. It is of great significance for long-distance transportation.
The maximum processing capacity of GN vacuum pump is 40m³/h. If more processing capacity is needed, solid vacuum pumps can be used in parallel. A domestic Shanghai drilling mud company uses 4 GN Solids Control vacuum pumps in parallel, which greatly increases the processing capacity, thus satisfying On-site use requirements.
The reason why the vacuum pump can have a good effect and a longer head for solid transportation is that it can form a higher negative pressure and a positive pressure. GN Solids Control has specially designed two devices, a vacuum pump rotary discharge device and a vacuum pump buffer funnel, to relieve pressure and prevent the impact of the discharge of materials. So as to meet the customer's requirements.
GN Solids Control mud treatment system also widely used in trenchless, piling, and shield tunneling projects. Please contact us in time if you need it.
Leave a Reply