GN Solids Control is a supplier specializing in the production of mud treatment equipment. Since the establishment of the company for more than ten years, GN Solids Control's mud treatment equipment has been sold to many domestic and foreign customers. Recently, the large-scale mud-water separation decanter centrifuge system manufactured by GN Solids Control has completed the conditions for delivery of tools and will be sent to a domestic tunnel engineering company for use.
GN's mud treatment system is a mud system specially developed for the fine separation of mud in shield engineering. This system can minimize the specific gravity of mud. When used with the flocculation dosing system, the mud can achieve environmentally friendly discharge standards.
1. Decanter centrifuge GNLW764A-VFD
GN specializes in the design of centrifuges based on the customer's specific mud conditions and usage requirements, with high-quality material selection and cutting-edge processing and testing equipment, which greatly improves the trial performance of the centrifuge. GN Solids Control can manufacture various types of centrifuges with a transfer diameter of 220mm-760mm, with a length-to-diameter ratio of 4.2 and a separation factor of up to 3000G. The decanter centrifuge GNLW764A-VFD is made of 2304 bidirectional stainless steel centrifugal casting with superior wear resistance. The screw pusher adopts cemented carbide sheet inlay technology, which increases the wear resistance and is more convenient for maintenance. This centrifuge is equipped with a lubricating oil circulation workstation, which can meet the needs of continuous work. At the same time, in order to ensure the stable operation of the centrifuge, we use internationally renowned brand screw pumps to supply the equipment to ensure a constant flow rate.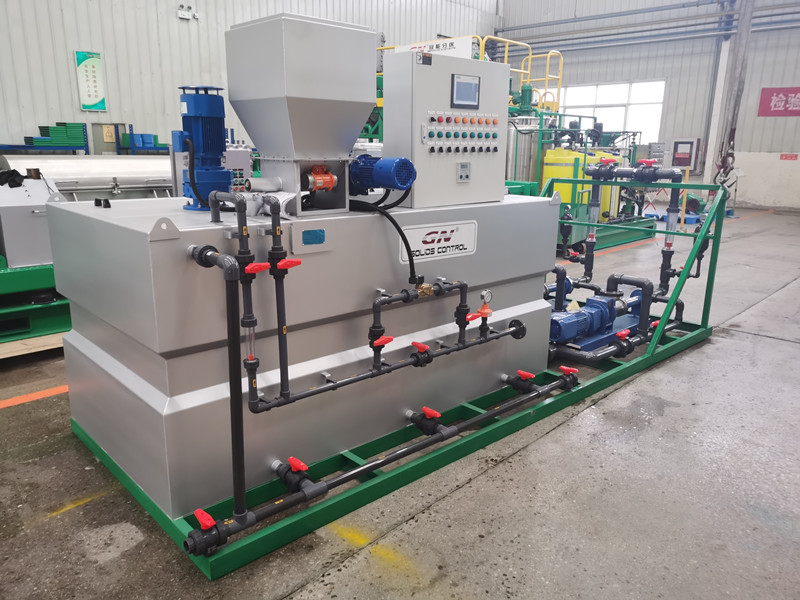 2. Chemical dosing system: GNDW-6000L
The GN flocculation dosing system is mainly used to automatically configure chemical flocculants, coagulants or demulsifiers, and is used to assist the decanter centrifuge to separate finer particles, so as to realize the reuse or discharge of clean water. The GNDW-6000L dosing system is made of 304 stainless steel as a whole, and the three-box design meets the maturation and mixing process of the medicament, and continues to provide medicament for the decanter centrifuge during operation.
GN Solids Control mud treatment system is widely used in trenchless, piling, and shield tunneling projects. Please contact us in time if you need it.
Leave a Reply