GN Solids Control is a professional manufacturer of solid-liquid separation equipment. After more than 10 years of continuous research and development and innovation, GN Solids Control has become a well-known brand in the domestic solid-liquid separation equipment industry, and has established overseas branches in the United States and Russia.
Last week, GN Solids Control delivered a prospecting and coring drilling mud handling system to a client in Chile.
The prospecting and coring drilling mud processing system mainly includes:
1. GN Shale Shaker GNZS752F
As the pre-treatment equipment of the mud treatment system, the vibrating screen is of great significance. It can separate the large solid particles in the mud, and the treated mud can enter the centrifuge for treatment. The GN GNZS752F shale shaker has a small footprint and is economical.
2. GN Decanter Centrifuge GNLW223D
The 9-inch centrifuge manufactured by GN Solids Control, also known as micro centrifuge, has a compact structure and good processing performance, and is widely used in the core drilling industry. The drum is made of dual-phase stainless steel centrifugal casting, which has better performance; the screw pusher is protected by a replaceable wear-resistant alloy sheet, which has a long service life and is easy to maintain and replace; the depth of the liquid pool can be adjusted according to needs to meet different needs. It can adjust the dry and humidity of the material under different conditions; the centrifuge has undergone three dynamic balance treatments before leaving the factory to ensure that the centrifuge runs stably under medium and high speed conditions.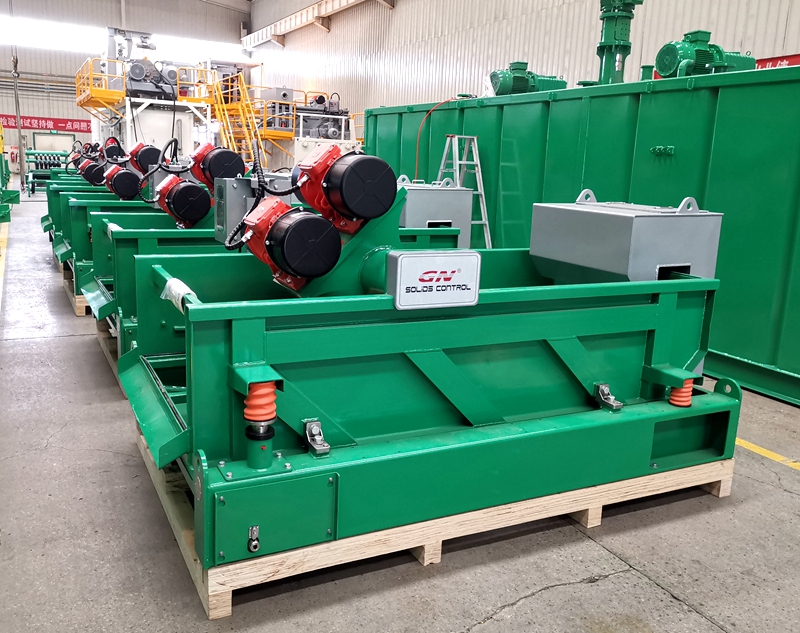 3. GN mixing funnel and centrifugal pump
The drilling fluid treated by vibrating screen and centrifuge needs to ensure its specific gravity by adding chemicals such as bentonite, barite, etc. Mixing funnels and centrifugal pumps produced by GN Solids Control can be used in conjunction with customers to prepare drilling fluids. Ensure that the mud is used normally.
4. GN mud tank
The conditioned drilling fluid can be stored in a mud tank. If necessary, it can be delivered by centrifugal pump.
If you have any needs regarding mud handling systems, please call GN Solids Control.
Leave a Reply