So what are the characteristics of GN Solids Control equipment that can stand out among many domestic solid control counterparts? The following focuses on the unique features of GN Solids Control vertical cutting dryer products:
Features:
1. It has a wide range of applications. The drill vertical cuttings dryer is specially used to process the drill cuttings discharged from the drilling fluid shaker. It is suitable for oil machine mud (OBM) and composite base mud (SBM). It has been obtained in domestic and foreign drilling projects widely used.
2. The separation factor is high. There is a 900RPM vertical cutting dryer that meets the requirements of conventional use, with a separation factor of 420G, or variable frequency control can be selected to achieve the expected use effect by adjusting the speed.
3. Bearing brand, use FAG brand bearings.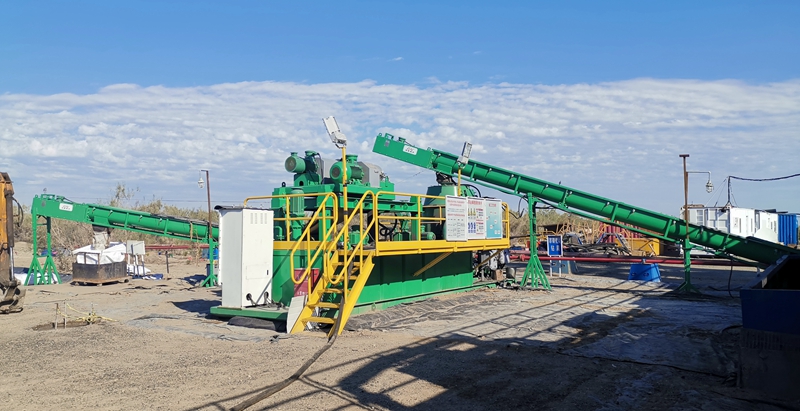 4. The discharge scraper on the rotor is sprayed with a high wear resistance coating with a hardness of up to: HRC65, which greatly extends the service life. The scraper rotor assembly has undergone strict dynamic balancing treatment, which can facilitate future replacement of parts without affecting the balance of the whole machine.
5. The specially designed high-precision stainless steel split screen basket ensures the separation effect, and has a long service life and is easy to replace. The screen basket body has undergone strict dynamic balancing treatment, which can facilitate the replacement of the screen basket in the future without affecting the balance of the whole machine.
6. The unique high-pressure air knife design has applied for a national patent, which can effectively prevent the screen basket from clogging, especially in the treatment of water-based drill cuttings and high-viscosity oil-based drill cuttings. The omni-directional liquid phase flushing system, combined with a unique nozzle, can effectively prevent sand accumulation and blockage of the liquid outlet.
7. Circulating oil circuit cooling system, equipped with stainless steel oil tank with heat sink, can meet the operation in high temperature environment.
In addition to the above-mentioned shale shaker, vertical cutting dryer and screw conveyor equipment, our company also produces a complete set of oil drilling solids control systems, non-excavation and coal bed methane drilling rig mud recovery systems, piling and shield mud purification systems, and drilling waste Treatment system, industrial environmental protection mining and other solid-liquid separation systems.
Welcome customers to visit our company for inspection.
Leave a Reply