To separate easily settleable solids (eg. sand or slag ) from effluent or process water, Solids separator with screw auger is required. In order to meet requirement for this field, GN Solids develop a new kinds products solids separator with screw auger.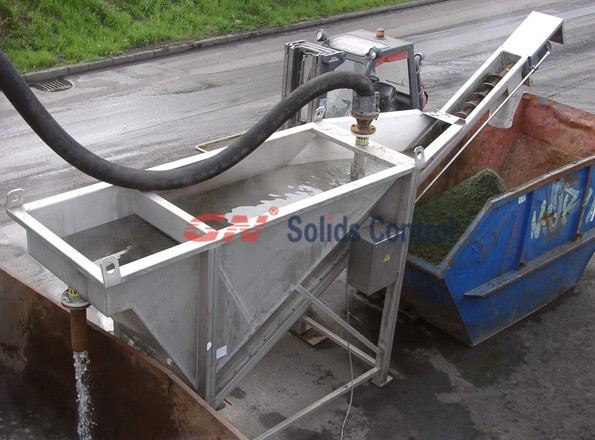 The process flow diagram of solids separator screw unit
The effluent is fed into the hopper from the top. Solid particles settle down at the bottom of the sludge funnel and are carried out by a conveyor screw. Pre-dewatering in the final section of the conveyor trough allows a partly dewatered discharge of solids. The solids separator can additionally be fitted with lamellas. Its function is then comparable to a lamella separator, whereas relatively large (heavy) particles are discarded only. Residual fine particles can be separated using, for example, a lamella separator.
 The field of application of solids separator screw unit
When compared to conventional separation units used in the treatment industry, as for example bucket wheels, sizing screens, hydrocyclones, etc., the solids separator is advantageous in situations with a high water flow and relatively small loads of solid particles. Therefore, a solids separator is an affordable alternative not only in terms of acquisition but also maintenance costs. Solids separators are typically used to clarify wash and process water containing sand, grit, slag or glass splinters. The combination of a solids separator and a lamella separator is common practice. Whereas the rotary drum is used to remove large particles, the lamella separator separates residual turbidity material. The pretreatment has the advantage of a much smoother operation of the sludge dewatering process (after the lamella separator).
The unit is popular used in recyling industry, waste water cleaning etc.
They types of GN Solids separator screw unit
We can offer the unit as per customer request.  Pls contact GN Solids Control Co., Ltd. for details.
As the leading company focus on Solids/Liquid separation, GN Solids now is popuar during not only oil & gas field, but also industry area, live area. Like mining waste water treatment, living waste water treatment, etc.
One Ping to "Solids Separator Screw Unit for live sewerage Cleaning"
Screw Conveyor Software in Drilling Waste Administration | Posts Says:
July 11th, 2014 at 4:11 am

[…] Solids Separator Screw Unit for live sewerage Cleaning To separate simply settleable solids (eg. sand or slag )… […]
Leave a Reply