Saudi Arabia is high end market for importing equipment, same case for oil drilling field solids control equipment. GN Solids Control is position on high end overseas market, like Saudi Arabia, Iran, Kuwait, Turkey, Yemen, Israel etc. Middle East Countries.
Recently, we receive purchase order from Saudi Arabia HDD contractor. The customer make mud tanks locally and buy solids control equipment from us.  The equipment in the PO including:
Mud cleaner, GNZJ594-2S12N, 2 SETS
Centrifugal Pump, GNSB8X6J, 6 SETS
Start and stop control panel for centrifugal pump, star-delta starting, 6 SETS
Mud Hopper, 2 SETS
Spare parts, 1 sets
Mongoose composite material shaker screen as spare parts for Mud Cleaner, 36pcs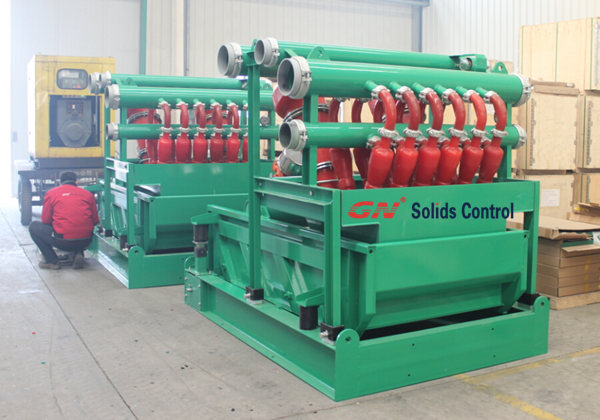 GN Solids Control compact mud system is famous in HDD and CBM drilling field. We have many successful marketing cased in different countries. Last month, we just dispatch one compact 200gpm to Dubai HDD contractor. They are trying to release repeated order for another 500gpm HDD mud system.
Why so many customer buy 200gpm/500gpm/800gpm/1000gpm HDD mud system from GN Solids Control ?
Reason 1: GN Solids Control is good at offering compact and customized mud system as per customer's request. The solution can be recommended and advised under the negotiation of customer and manufactuere.
Reason 2: GN Solids Control have many years experience, is the first China company who come into this field. GN with over 5 years experience, can service the customer better.
Reason 3: GN Solids Control have many marketing cased in different countries. We have marketing video and marketing pictures. Eg. If you are one customer from Saudi Arabia and you see our equipment working in the field, you see the working performance with your own eyes, will you buy from GN ?  The answer is for sure.
Reason 4:  GN Solids Control offer quality equipment with reasonable price. Because we have experience, we know how to optimize the mud system and how to lower down the cost for customer.