Mud tank is the base for mud system, all the solids control equipment should be mounted on mud tank for operation. We have large quantity of mud tank sales in domestic market; for overseas market, we recommend customer do it locally to avoid pretty high freight cost. However, there are still some customers from Middle East and Africa bought mud tanks from us due to instable of local political issues.
Recently, we ship one mud tank with mud agitators, mud guns to Iraq. The customer is locally oil service company with many years industrial experience. The mud tank will be used as drilling mud storage tank.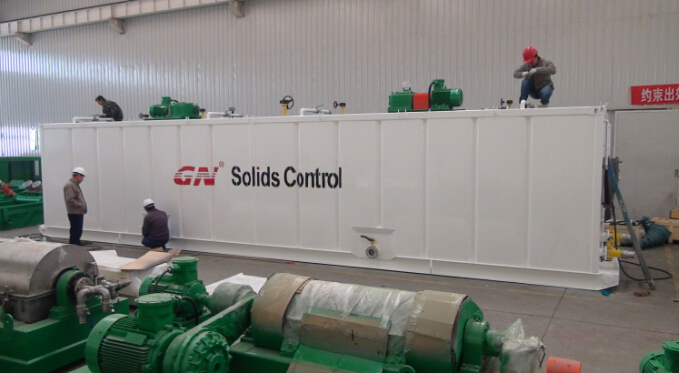 GN mud agitator for mud tank
GN agitator formerly use coupling connection design for easy assembly. However, the dimension is relatively bigger footprint. After company meeting, we update the design of mud agitator with below 3 advantages:
1) C Face motor direct connection with gear box
2) Compact design without coupling, compact design with smaller footprint
3) JIE TOP Brand Gear Box from listed company
GN mud gun for mud tank
We have two kinds of mud gun, rotary and not rotary.  With rotary mud tank, the mud tank can be cleaned in 360 degree without dead angle. The quantity of mud gun can be same as mud agitator, or can be put in the middle of two agitators. This can be customized as per customer's use habit.
GN centrifugal pump for mud tank
Centrifugal pump can supply power for mud flow and recycling. GN centrifugal pump is interchangeable with NOV brandt centrifugal pump, Mission pump or Magnum pump. Some customer also buy spare parts from us, like pump impeller and pump shaft.
GN Solids Control committed herself to support the domestic and international drilling cause. With excellent solids control equipment and first-class service, GN Solids Control have win many market from big tenders and grow into international solids control equipment supplier.
GN Solids Control America branch: http://www.gnsolidsamerica.com/
GN Solids Control Russia branch: http://www.gnsolidscontrol.com/contact/
Warning
: chmod(): No such file or directory in
/www/wwwroot/oilfield.gnsolidscontrol.com/wp-includes/plugin.php(390) : runtime-created function
on line
1
Warning
: chmod(): No such file or directory in
/www/wwwroot/oilfield.gnsolidscontrol.com/wp-includes/plugin.php(397) : runtime-created function
on line
1
Warning
: chmod(): No such file or directory in
/www/wwwroot/oilfield.gnsolidscontrol.com/wp-includes/plugin.php(402) : runtime-created function
on line
1
Warning
: chmod(): No such file or directory in
/www/wwwroot/oilfield.gnsolidscontrol.com/wp-includes/plugin.php(410) : runtime-created function
on line
1
Warning
: chmod(): No such file or directory in
/www/wwwroot/oilfield.gnsolidscontrol.com/wp-includes/plugin.php(415) : runtime-created function
on line
1
Warning
: chmod(): No such file or directory in
/www/wwwroot/oilfield.gnsolidscontrol.com/wp-includes/plugin.php(423) : runtime-created function
on line
1
Leave a Reply