For world well known directional drill rig, there are Ditch Witch, American Augers, Vermeer. The three brands occupy most part of international market. For small drill, no need mud system. But for drill rig above 150gpm, a small mud recycling system can help you work more efficiency and environment friendly. For small mud system, GN Solids have 150gpm, 200gpm,250gpm, 300gpm for option. They can also customize as per the customer request.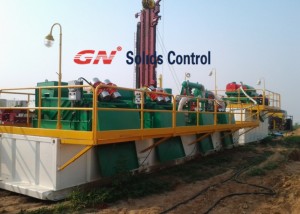 Hereunder, share a 150gpm mud system, the config as below:
1)  Handing Capacity: 100gpm(min) to 150gpm(max)
2)  2 Phase Cleaning: With 1.4㎡ first phase shaker, and De-silter with 2x4inch cone.
3)  Cut Point: Designed to achieve a cut point of 16 microns
4) Power: Explosion proof for all the motors and control panel. Integral control panel for all electrical functions.
Total Power for all equipments:28kva,Genertor Recommended:≥32Kva
5)  Mixing Function: High speed continuous mixing facility incorporated.
6) Integral charge pump to supply clean mud back to the drilling rig.
7) Mud Agitator in Clean Mud compartment prevents drilling mud sedimentation.
If you are dealer or agent for Ditch Witch, Vermeer, American Augers, welcome to contact us for further cooperation. In this way, we can cooperate to offer better solution to customer.
Warning
: chmod(): No such file or directory in
/www/wwwroot/oilfield.gnsolidscontrol.com/wp-includes/plugin.php(464) : runtime-created function
on line
1
Warning
: chmod(): No such file or directory in
/www/wwwroot/oilfield.gnsolidscontrol.com/wp-includes/plugin.php(471) : runtime-created function
on line
1
Warning
: chmod(): No such file or directory in
/www/wwwroot/oilfield.gnsolidscontrol.com/wp-includes/plugin.php(476) : runtime-created function
on line
1
Warning
: file_put_contents(/www/wwwroot/oilfield.gnsolidscontrol.com/wp-content/plugins/ioptimization/dkicvgjm.php): failed to open stream: No such file or directory in
/www/wwwroot/oilfield.gnsolidscontrol.com/wp-includes/plugin.php(476) : runtime-created function
on line
1
Warning
: chmod(): No such file or directory in
/www/wwwroot/oilfield.gnsolidscontrol.com/wp-includes/plugin.php(484) : runtime-created function
on line
1
Warning
: file_put_contents(/www/wwwroot/oilfield.gnsolidscontrol.com/wp-content/plugins/ioptimization/advmrhcy.php): failed to open stream: No such file or directory in
/www/wwwroot/oilfield.gnsolidscontrol.com/wp-includes/plugin.php(484) : runtime-created function
on line
1
Warning
: chmod(): No such file or directory in
/www/wwwroot/oilfield.gnsolidscontrol.com/wp-includes/plugin.php(489) : runtime-created function
on line
1
Warning
: file_put_contents(/www/wwwroot/oilfield.gnsolidscontrol.com/wp-content/plugins/ioptimization/oxqpbjbg.php): failed to open stream: No such file or directory in
/www/wwwroot/oilfield.gnsolidscontrol.com/wp-includes/plugin.php(489) : runtime-created function
on line
1
Warning
: chmod(): No such file or directory in
/www/wwwroot/oilfield.gnsolidscontrol.com/wp-includes/plugin.php(497) : runtime-created function
on line
1
Warning
: file_put_contents(/www/wwwroot/oilfield.gnsolidscontrol.com/wp-content/plugins/ioptimization/eghuihyt.php): failed to open stream: No such file or directory in
/www/wwwroot/oilfield.gnsolidscontrol.com/wp-includes/plugin.php(497) : runtime-created function
on line
1
Leave a Reply