Coalbed methane (CBM) reserves are a relatively untapped energy source with huge potential. It has become an important source of energy in all over the world, like Canada, United States, Australia, China, etc. The exploration of CBM is similar to geothermal well drilling. They mainly need rig, mud system, mud pump, and some other accessory equipment.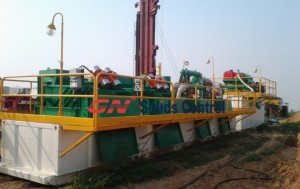 GN Solids is well-known manufacturer for mud system. They have many successful mud system supply cases for HDD, CBM drilling, geothermal drilling and even deep water well drilling. Hereunder, we can see GN mud system in the jobsite, this is for a domestic customer in Shanxi province. The mud system includes:
Shale shaker, GNZS703, 2 EA
Desander, GNZJ703-2S, 1 EA
Desilter, GNZJ703-12N,  1 EA
Decanter Centrifuge, GNLW363G, 1 EA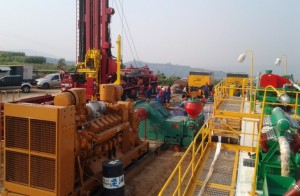 GN don't only offer equipment, they can also send professional engineer to the jobsite for commissioning once requested from customer, domestic or overseas customer.
If now you just have a requirement of mud system, for CBM drilling, geothermal drilling, deep water well drilling, or big solid control system for oil drilling. GN can meet your requirement without doubt. Please view there website to get quotation.
One Response to "Mud System for Coalbed Methane Drilling Operation"
1. camila Says:
August 22nd, 2013 at 10:21 pm

Dear Sir/Madam ,

Nice Day!
This is camila,from SRT,China,which is specialized in producing and trading
for tricone bit and pdc bit .

As a factory,we offer good price and after-sales service .
we constantly look for partners to help explore their local market.
Also we sell our products directly to well drilling and related companies.

should you are interested in us,pls contact us.

Yours Faithfully
Urumqi Siruite Mechanical Equipment Co., Ltd.
camila(sales manager)
Email:srt.rollerbit@gmail.com
Skype:srt.rollerbt
Tel:86-15999182160
Fax:86-991-4595315
Website: http://www.triconebit.net(being updated)
Leave a Reply