Recently, the GNLW-363ET-VFD sludge dewatering centrifuge independently developed and manufactured by GN Solids Control has been successfully sold to the sewage treatment plant in Southeast Asia for sludge dewatering at the back end of sewage treatment. GN customized this set of GNLW-363ET-VFD sludge dewatering centrifuge for customers based on years of experience in the research and development and manufacturing of centrifuge industry, and after in-depth communication with customers to understand the actual needs of customers' sewage treatment plants. Southeast Asian customers are very interested in GN Solids Control. The sludge dewatering centrifuge solution provided is affirmed and we look forward to the next cooperation.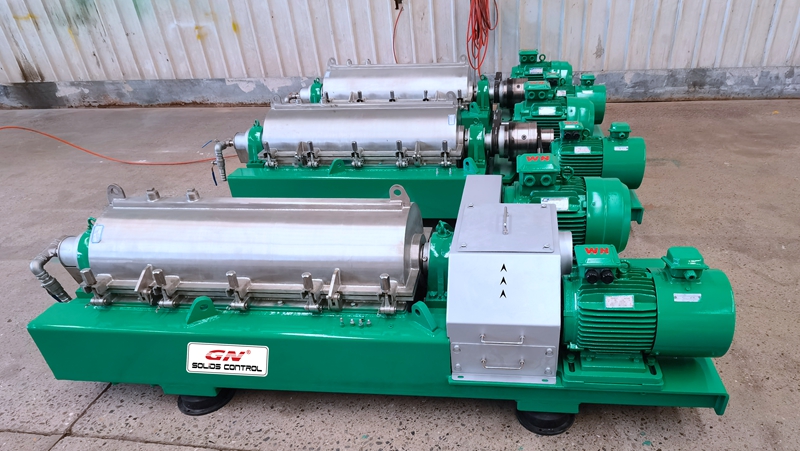 GNLW-363ET-VFD sludge dewatering centrifuge is a T series dewatering and concentrating decanter centrifuge independently developed by GN Solids Control. The half cone angle is 8.5 degrees. It is mainly used to separate liquid in solid particles and is suitable for comparing dryness Materials with high clarification requirements are separated and dehydrated. If centrifugal dehydration of fine-particle sludge wastewater is required, our company can also match the flocculation dosing system used with the sludge dewatering centrifuge for the customer to achieve the ultimate goal of the customer Separate processing requirements.
The diameter of the rotating drum of the GNLW-363ET-VFD sludge dewatering centrifuge is 360mm, the length of the rotating drum reaches 1512mm, the maximum speed of the centrifuge is 3900RTM, and the maximum separation factor can reach 3063G. The GN Solids Control sludge dewatering centrifuge electric control system is equipped with a stainless steel frequency conversion control cabinet, and the control system is integrated into the PLC. The frequency conversion control cabinet controls and displays the speed and differential speed, and can also monitor the operating status of the equipment, and can also Customers need to equip customers with automatic flushing and automatic dosing systems. If you have sludge dewatering needs or are interested in solid-liquid separation, please feel free to contact us.
Leave a Reply