In the solids control processing and waste management work systems, the screw conveyor are widely used in transporting main solid part. Screw conveyor also called auger. The out look of screw conveyor like long boxes connect together and with impeller in it, with rotation of the impeller, the materials can be transported to collecting tank/box.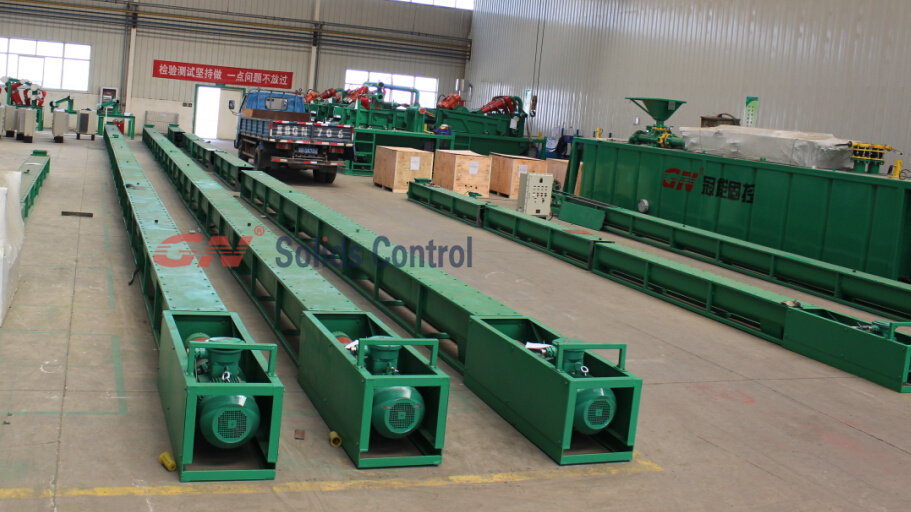 Theauger could be positioned in with a slope, and within a certain slope angle, the materials could be transported to enough height. for practice, like in a generalized solids control system, the screw conveyor are used in different places as below:
in WBM (water based mud) solids control system, the screw conveyor is also can be used to collect the drilling cuttings discharged from the desander and desilter,also the solids control centrifuge,and another auger is used to transport cutting to the solidification unit, normally is the final treatment for the drilling cuttings.
when auger is always in slope situation, which is used in receiving the solids cuttings from shaker and feed it tovertical cuttings dryer.to reduce liquid part
one set of screw conveyor used to collect solids cuttings from the shale shaker, and transport the80% dry cutting to tank or continue screw conveyor
screw conveyor are also used to collect the drilling cuttings discharged sometime by the vertical cuttings dryer and waste managementhigh speed decanter centrifugeand deliver them to the solidification unit.
For screw conveyor,the solids part must be high enough,or most liquid part will go to bottom of unit,for this situation,we may consider sludge vacuum transfer pump
GN Solids Control is the manufacturer for solids control and waste management systems and solution in China. also GN solids control focus on provides complete closed loop of zero discharge solutions to oil and gas drilling industry. Such solution includes: the solids control systems for drilling rigs ranging from 500 HP(horse power) work over rig to 2000 HP deep oil and gas drilling rigs, the drilling cuttings waste management system for both WBM(water based mud) and OBM(oil based mud), solidification unit for final treatment of drilling cuttings, for drilling fluids, GN has dewatering unit and dewatering centrifuges of high speed. And GNSC series screw conveyors are greatly used in those GN systems.
More question,please click our website
Leave a Reply