GN Solids Control specializes in fixed control and waste treatment equipment for more than ten years, has successfully exported to multiple countries and regions around the world, and has established branches or cooperation institutions in the United States, Russia.
Recently GN Solids Control supplies a set of dryers and centrifuge processing systems for a domestic environmental protection engineering company for treatment of oil-based cutting waste.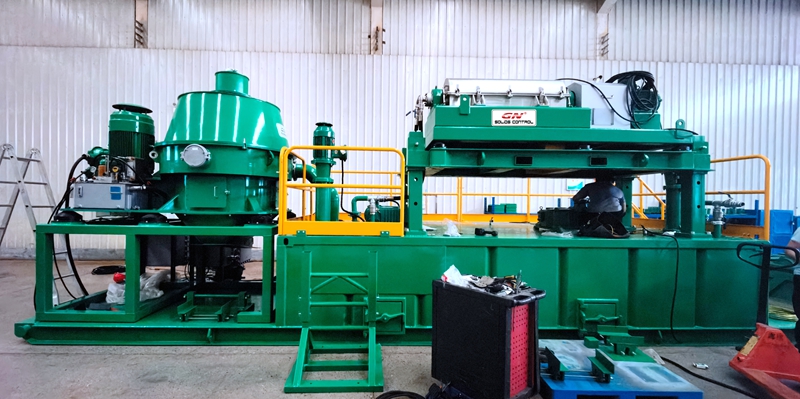 First, GNCD930F vertical cutting dryer
The dryer is develop and developed by GN Solids Control, widely used in oil-based cutting. The crystals are delivered to the dryer feeder through the spiral conveyor, and the oil-based cutting after the dryer are treated both cost and meet the transportation and environmental requirements of cuttings. In order to prevent the interior of the dryer, the GN Solids Control dryer is equipped with a special air knife for cleaning the screen blue slit to prevent screen blue blocking. Under some special conditions, customers have customized dual-frequency trunk to get better processing.
Second, GNLW363C-VFD  centrifuge
GN Solids Control GNLW363C-VFD Decanter Centrifuge is the best-selling model of GN Solids Control in the oil industry. The centrifuge system is mainly used to handle drilling fluids separated by dryers. Under the action of high-speed centrifugal force, the fineness in the drilling fluid can be recovered to cyclic use in the mud storage tank. The solid phase waste and the solid discharged in the dryer are transported together to the designated area. Reduced transportation costs.
Skid and screw conveyor, etc.
The cutting filters after the vibrating screen treatment in the oil-based grief treatment system are delivered to the dryer through the spiral conveyor, and our company is also supported by the dryer and the centrifuge. Legs and hair equipment and related supporting equipment for customers.
If you have related drillings, please feel free to contact us.
Up to now, GN Solids Control has provided similar complete sets of equipment to many countries such as the United States, Singapore, Canada, etc. Customers have given positive affirmation to the effect and service life of the treatment.
If you have a need for mud dehydration treatment equipment or have any questions about mud treatment, you are welcome to call at any time.
Leave a Reply