The separation and conveying equipment produced by GN is widely used in environmental protection and water treatment industries. After more than ten years of development, the equipment is exported to many countries and regions, and has won high recognition from customers at home and abroad.
Recently, GN Solids Control stacked screw dewatering machine and solid vacuum pump have been produced and will be sent to domestic environmental protection companies for use in sludge dewatering projects. The whole set of equipment is divided into two modules: sludge transportation and mud-water separation, which has achieved the customer's expected effect.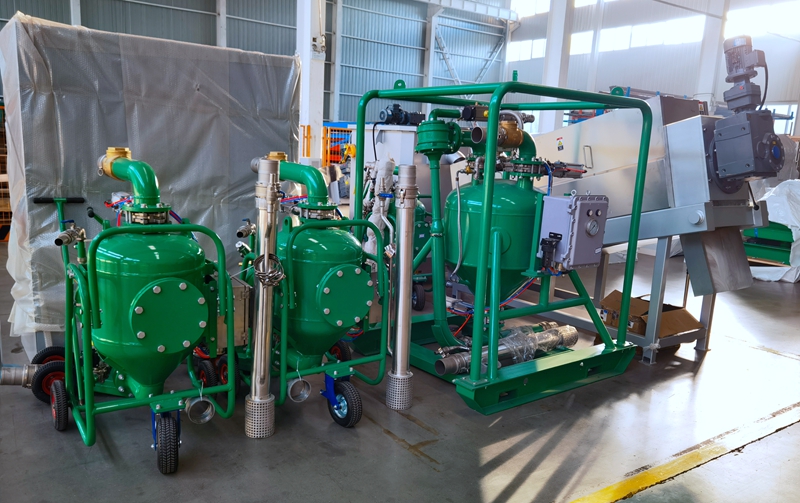 GN Solids Control solid vacuum pump can meet the transportation of solid, high-solid sludge, liquid or powder and other materials. The equipment adopts pneumatic working principle, which forms vacuum suction and positive pressure discharge through compressed air. There is no Rotating parts can be applied to a variety of working conditions, and the maintenance rate is low. It can transport materials with a solid content of 80%, and has the advantages of small footprint, large transport volume, and easy movement. GN Solids Control solid vacuum pumps can be divided into three models: 10m³/h, 20m³/h, and 40m³/h according to the different material conveying capacity. The material can also be cast iron and stainless steel. it was better choice than screw conveyor for some job.
GN Solids Control stacking screw dehydrator is widely used in municipal sewage, aquaculture and other sludge sewage treatment in many industries, and can also be used for oily sludge treatment. According to the different needs of customers, there are many models to choose from, and it can replace decanter centrifuge in many fields. Machine to get a higher price-performance ratio.
If you have a need of this type solution, you are welcome to call at any time.
Leave a Reply