Mud agitator can be classified to horizontal and vertical mud agitator. All GN mud agitators feature a brand motor coupled to a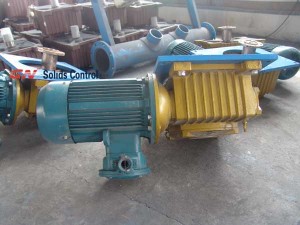 rugged oilfield gearbox, which eliminates misalignment and troublesome couplings. This configuration promotes longer motor and gearbox bearing life. This highly efficient gearbox offers a 95% power transfer, which is approximately 30% more than a worm drive gearbox.
Motors of Mud Agitator
The motors GN Solids Control used is brand motors in China, and as you requried, we choose different types of motors for the agitator.
Shafts and Impellers
Manufactured of solid, mild steel bar, the shaft is coupled to the gear reduction assembly with a rigid coupling. All shafts are keyed at the bottom for adjusting the height of the impeller. Depending on the model, shaft diameters range from 1 3/4 to 3 1/2 inches.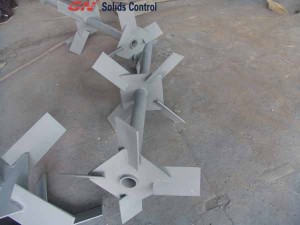 Shaft length is determined by tank depth and should be carefully reviewed before ordering. Consideration must be given to the difference in height of the agitator models, the gear reducer stub shaft length and the rigid coupling length.
Impellers range in size from 24″ to 52″ and can displace over 18,000 gpm. The canted blade impeller , used in tanks deeper than five feet, promotes axial as well as radial flow. Because the blades move the liquid downward to the bottom of the tank and then toward the tank walls and up, all fluid is mixed continuously and the same consistency is maintained in all parts of the tank. Field experience has confirmed that this design provides the most homogeneous mixture over the widest range of installations and helps to eliminate heavy slugs or light spots that could cause control problems when pumped down-hole.
Purchase Tips:
Please contact GN Solids Control representative with your tank dimensions and maximum mud weights for the correct agitator model, horsepower, impeller (size, type and quantity), and shaft length to meet your requirements.
Warning
: chmod(): No such file or directory in
/www/wwwroot/oilfield.gnsolidscontrol.com/wp-includes/plugin.php(390) : runtime-created function
on line
1
Warning
: chmod(): No such file or directory in
/www/wwwroot/oilfield.gnsolidscontrol.com/wp-includes/plugin.php(397) : runtime-created function
on line
1
Warning
: chmod(): No such file or directory in
/www/wwwroot/oilfield.gnsolidscontrol.com/wp-includes/plugin.php(402) : runtime-created function
on line
1
Warning
: chmod(): No such file or directory in
/www/wwwroot/oilfield.gnsolidscontrol.com/wp-includes/plugin.php(410) : runtime-created function
on line
1
Warning
: chmod(): No such file or directory in
/www/wwwroot/oilfield.gnsolidscontrol.com/wp-includes/plugin.php(415) : runtime-created function
on line
1
Warning
: chmod(): No such file or directory in
/www/wwwroot/oilfield.gnsolidscontrol.com/wp-includes/plugin.php(423) : runtime-created function
on line
1
Leave a Reply