GN Solids Control has just completed the production of a solids vacuum pump and a small decanter centrifuge for a foreign customer, which will be delivered next week. The cleaning of oil storage tanks and the pretreatment of solid waste are one of the more difficult tasks in tank cleaning operations. GN Solids Control has many years of successful experience in tank cleaning.
Mini Solids Vacuum Pump
GN Solids Control solid vacuum pumps are designed to transport high solids, dense materials such as tank bottom sludge, drilling cuttings, refinery waste and more. Valves, control boxes and other components of the vacuum pump are all driven by pneumatics, which are safe and reliable to use in non-explosion-proof environments. The processing capacity of this miniature solid vacuum pump is 5 m3/h. At the same time, GN Solids Control has designed a compact hoisting structure according to customer requirements, and installed surrounding brackets to facilitate on-site hoisting and lifting operations. The solid vacuum pump is equipped with several different types of suction ports, which can be selected by customers according to the on-site conditions. The vacuum pump can be controlled in two modes: manual control and automatic control. The run time includes suction and discharge time, which can be changed by two timers on the control box.
GN Solids Control produces decanter centrifuges with different spinning diameters, the smallest model is 9-inch spinning decanter centrifuges, which are mainly used for the separation of small flow mud such as diamond core drilling mud and mine tailings mud.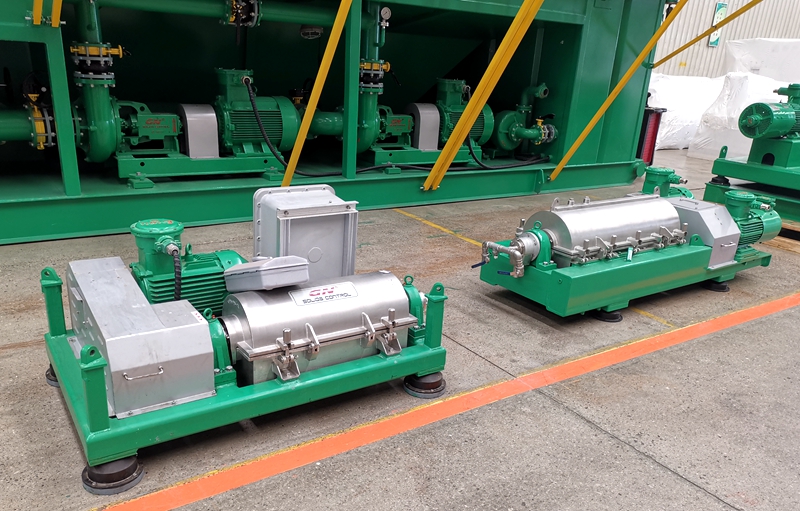 Mini Decanter Centrifuge
This 9-inch decanter centrifuge will be used for solid-liquid separation of the sludge in the tank after being sucked from the vacuum pump. It can rotate at a speed of 3800 rpm, and fine particles of about 2 microns are easily separated. Sometimes, according to the distribution of solid particles, GN Solids Control also provides a chemical dosing flocculation dewatering unit, adding a dosing port to the feeding port of the decanter centrifuge, and providing flocculant at the same time of feeding.
Leave a Reply