Desander and desilter are the second phase separation and third phase separation in oil drilling solids control system. There are different type desander and desilter for option, we may firstly to know the difference and advantages of each type, then we can know how to make choice for project.
 First type: Desander/Desilter without downstream drying shale shaker
1) Small footprint, economic choice, no consumable screens
2) For oil gas drilling un-weighted drilling mud
3) Only for wet cuttings, not recommended for weighted mud and drying solids
Second type: Desander/Desilter with Mini 2panel Shale Shaker
1) Small footprint, economic choice, acceptable drying solids
Third type: Desander/Desilter with 3panel Shale Shaker
1) Big capacity, drying solids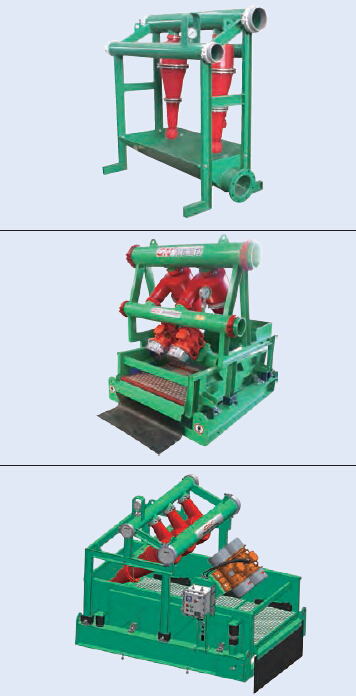 After we compare the three type desander and desilter, we can tell the first type can only be used in certain working conditions, only for wet cuttings. And the third type will be working good for many different working conditions. And the first type is the cheapest, and the third type is the most expensive.
To choose proper model equipment, the buyer need to consider the working conditions fully and choose the proper model with good working performance and also with good price.
GN Solids Control is China & USA leading brand separation equipment, can offer below items:
1) GN Industry Decanter Centrifuge
Fully Hydraulic Drive Centrifuge: The advantage of the FHD centrifuge is for use in high temperature ambient for heavy mud with flexible bowl and differential speed. The compact one skid design makes it easier for rig up.
Motor & belt drive Centrifuge: 9 inch / 14inch / 18inch / 22inch / 30inch bowl size decanter centrifuge
2) GN OEM Shaker Screen
Replacement Screen for MI-Swaco Shaker
Replacement Screen for Derrick Shaker
Replacement Screen for NOV Brandt
3) Solids Control Equipment /  Waste Management Equipment
Shale Shaker, Desander & Desilter, Vertical Cuttings Dryer, Chemical Dosing Equipment, Thermal Desorption Unit etc.
Warning
: chmod(): No such file or directory in
/www/wwwroot/oilfield.gnsolidscontrol.com/wp-includes/plugin.php(390) : runtime-created function
on line
1
Warning
: chmod(): No such file or directory in
/www/wwwroot/oilfield.gnsolidscontrol.com/wp-includes/plugin.php(397) : runtime-created function
on line
1
Warning
: chmod(): No such file or directory in
/www/wwwroot/oilfield.gnsolidscontrol.com/wp-includes/plugin.php(402) : runtime-created function
on line
1
Warning
: chmod(): No such file or directory in
/www/wwwroot/oilfield.gnsolidscontrol.com/wp-includes/plugin.php(410) : runtime-created function
on line
1
Warning
: chmod(): No such file or directory in
/www/wwwroot/oilfield.gnsolidscontrol.com/wp-includes/plugin.php(415) : runtime-created function
on line
1
Warning
: chmod(): No such file or directory in
/www/wwwroot/oilfield.gnsolidscontrol.com/wp-includes/plugin.php(423) : runtime-created function
on line
1
Leave a Reply