GN Solids Control is a professional manufacturer of solids control and waste treatment equipment. It can develop and produce complete solids control and waste treatment systems. The main equipment in the related systems is developed and produced by GN itself. More than ten years of market testing, reliable products recognized by customers. After receiving market feedback from the market, the GN Solids Control R&D and production team will improve the product in time after experimental demonstration. After more than ten years of continuous upgrading, the GN Decanter Centrifuge has been updated to the seventh generation (G version) product. After years of market inspection and continuous optimization design by technicians, GN Solids Control centrifuge series products have their own product characteristics.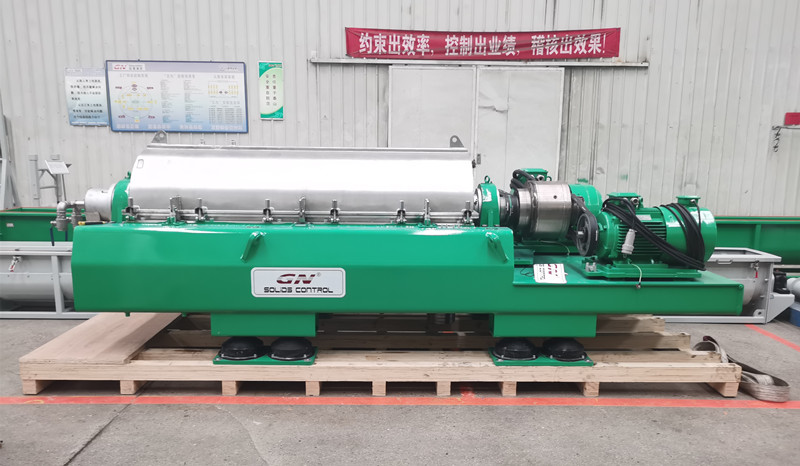 From the design material point of view, the drum material is stainless steel ss2304; the screw pusher: stainless steel ss2205. The main bearing is lubricated with thin oil, the running state of the bearing is better, it can reach higher speed, and it is equipped with a lubrication protection system, which can still provide lubrication for 5~10 minutes after a sudden power failure; The ratio is 4.2:1), deeper liquid pool depth means better treatment effect and larger treatment capacity; according to the nature and concentration of materials, different power motors and differentials are used; the motor is equipped with Shock absorber to avoid the impact of vibration between the motor and the centrifuge host; the collection box is equipped with a flushing pipe, customers can flush the collection box if necessary; equipped with a scraper and end scraper to prevent rotation and wear, equipped with a stopper The slag ring prevents the solid phase side of the collecting box from blocking the material; three types of centrifuges, three different angles, three different pitches, and BD plates with corresponding diameters can be designed according to different material concentrations to achieve better treatment results; ET type centrifuges have been added with slag discharge and mouth-resistant grinding sleeves for materials with high solid content and are prone to wear and tear, and wear-resistant grinding sleeves at the pulp outlet. The centrifuge mainly deals with materials with low solid content and is not easy to cause wear, and wear-resistant alloy is spray-welded on the liquid outlet and the spiral blade;
In addition to the decanters described above, GN Solids Control also produces a complete set of oil drilling solids control systems, trenchless and coalbed methane drilling rig mud recovery systems, piling and shield drilling mud purification systems, drilling waste disposal systems, etc. The stand-alone equipment often used in the system, such as shale shaker, Agitator, dryer, centrifugal pump, sludge vacuum pump, etc., are all high-quality products that have been continuously developed and optimized by the GN technical department, with stable performance and quality. Good reviews. GN's products are widely used in many industries at home and abroad. Our aim is to manage a brand that wins the favor of users.
Leave a Reply