GN Solids Control is committed to the design, development and production of industrial separation decanter centrifuges. After more than ten years of development, GN Solids Control has successfully sold GN Centrifuges to many countries and regions around the world, which are widely used in drilling mud treatment system. , waste water environmental protection treatment, druilling waste oil recovery project, chemical and food separation and other fields. Recently, our company has successfully customized two sets of GNLW454ET-VFD decanter centrifuges for foreign customers, which are used in foreign municipal sewage treatment.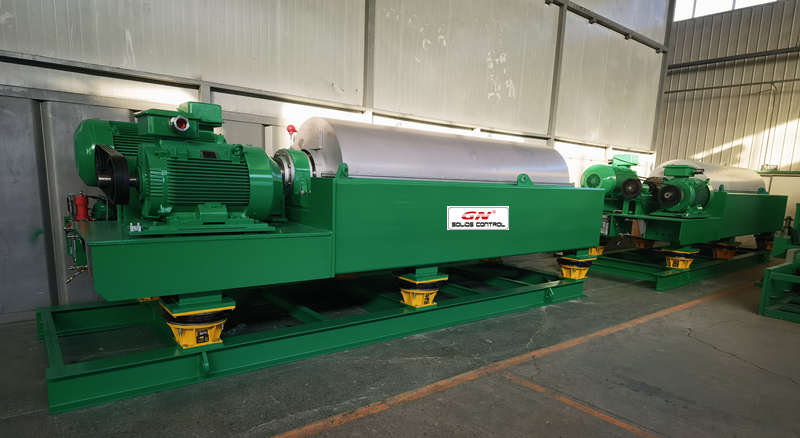 The drum diameter of GNLW454ET-VFD decanter centrifuge is 18 inches (450mm), and users can use it to treat municipal sewage with a solid content of 2-3%, with a treatment capacity of 30-40m³/h. Different from the centrifuge for oil drilling fluid separation, the cone angle and aspect ratio of the centrifuge for municipal sewage treatment are customized according to the characteristics of the material, and the selection of the motor is also very different. This set of centrifuges use The main motor is 45kw and the auxiliary motor is 15kw, and the centrifuge is equipped with temperature sensors and vibration sensors according to customer requirements.
GNLW454ET-VFD Decanter centrifuge is made of duplex stainless steel SUS2205 by centrifugal casting. The slag outlet and ejector outlet are protected by replaceable hard alloy sleeves. Effectively increase the wear resistance and prolong the service life of the equipment. The screw pusher is protected by a replaceable wear-resistant alloy sheet, which has a long service life and is easy to maintain and replace. GN Solids Control has a professional electrical equipment design department, focusing on the R&D and manufacturing of the centrifuge PLC system and electrical control system, which effectively improves the practicability and ease of operation of the centrifuge. and decanter centrifuge can work with other equipment together to get better separate result like shale shaker or vertical cutting dryer.
If you have needs for sludge dewatering centrifuges, you can contact us at any time.
Leave a Reply