GN Solids Control is a mud treatment equipment manufacturer. After more than ten years of continuous development, GN Solids Control mud water separation equipment has been successfully sold to many countries and regions around the world. Recently, our company successfully customized a set of GNTBM-240 series shield mud-water separation system for South American customers, and sent it to the customer site. After the customer's debugging and installation, the customer fully affirmed the effect of the GN Solids Control mud-water separation system. . This shield mud-water separation system mainly includes the following equipment modules.
1. Desander machine
According to the requirements of the customer's processing capacity, our company matched the GNZY705E-Y2S de-sanding integrated machine for the customer. The integrated machine vibrating screen adopts a double-layer vibrating screen. The upper layer is used to process the solid phase sieved from the desanding cyclone for drying and sieving again to obtain drier cuttings and recover more shield mud. The desanding cyclone adopts a polyurethane material cyclone, which can effectively extend the service life of the desanding cyclone, and a 55KW sand pump is used as the slurry supply pump for the GN Solids Control desanding integrated machine.
2. All-in-one desilter machine
For this shield mud-water separation system, our company matched the GNZY752E-Y12N desilting integrated machine and equipped with an underflow screen. When the mud is transported by the slurry supply pump to the desilting cyclone for cyclone separation, the liquid phase is separated from the cyclone. The upper part of the flow device is discharged into the slurry tank, and the solid phase falls into the bottom flow screen for solid-liquid separation again, to obtain a better separation effect. In order to effectively extend the service life of the sludge cyclone, the cyclone made of polyurethane material is also selected.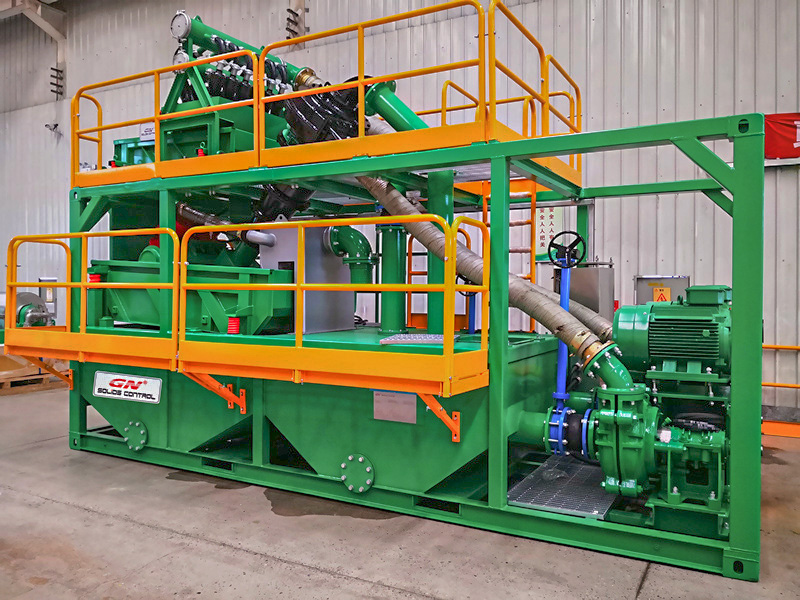 3. Mud tank and accessories
Our company also equips customers with slurry tanks for mud processing and transfer, as well as matching folding corridors, which are convenient for installation and transportation. The whole system integrates the electronic control system, which is easy to operate and safe and reliable.
If you have equipment requirements for mud-water separation, you can contact us at any time.
Leave a Reply