Recently, GN Solids Control has successfully supplied a batch of drilling mud desander cleaners and mud cleaners to domestic oilfield service companies.
The GN Solids Control desander cleaner is a combination of the GN Solids Control desander and the vibrating screen. It has a compact structure design and can effectively save working space. The GN Solids Control desander uses a 10-inch polyurethane material cyclone, and is matched with a GN Solids Control shale shaker at the bottom of the cyclone. The sand removal cleaner is mainly used to remove harmful solid phases above 45 microns in drilling mud. The working principle is mainly to centrifugal pump the mud into the cyclone with a certain lift through the sand pump, and the heavier solid phase flows in the shell through the cyclone. It falls inside the body, and finally falls on the shale shaker for re-screening. The light liquid phase is discharged from the top of the cyclone into the slurry tank.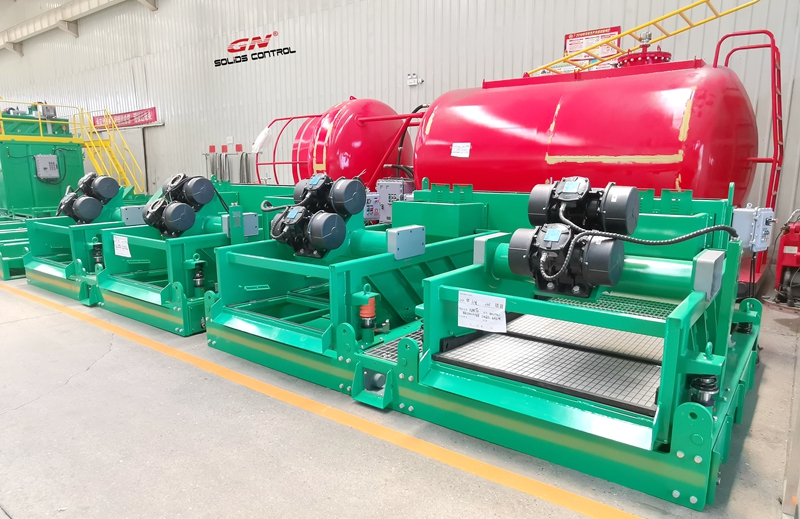 The GN Solids Control desilter cleaner, like the degreasing cleaner, combines a desilter and a shaker screen. Unlike the desilter, the GN Solids Control desilter uses a 4-inch polyurethane cyclone. A vibrating screen is also installed at the bottom of the cyclone to re-screen the solid phase discharged by the de-sludge cyclone, recover more useful drilling mud, and get drier drilling cuttings. The GN Solids Control desilter can remove harmful solids above 25 microns in the drilling mud, and is generally installed after the vibrating screen and de-sander.
In addition to providing customers with sand removers and sludge removers, GN Solids Control can also customize slurry treatment equipment, such as vibrating screens, centrifuges, and various slurry supply pumps and storage tanks, according to customer requirements. If you have any needs or questions regarding mud treatment, you can contact us at any time.
Leave a Reply