GN Solids Control can supply kinds of centrifuge used in slurry treatment of drilling, coring, tunneling, dredgging, mining and so on. It can be used in a complete system or separetely. One popular one is variable frequency drive centrifuge GLW355x1250N.
Specifics of GLW355x1250N
Drum diameter:     355mm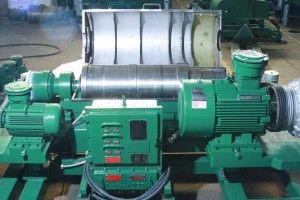 Rotary Speed:     0~3200r/min
Separation factor:  ≤2035
Separation point:  ≥2μm
Main power:        37kw-4p
Assistant power:   7.5kw-4p
Max capacity:     ≤40m3/h
Control Panel of VFD Centrifuge
The motors and the feed pump are controled by the control panel. Also the speed of the motor also bowl and scrool are also controled by the panel.
Two Motor Machanical Scrool Drive System

The two motors both controlled by independent variable frequency drives (VFD), and the main motor connected a hydrodynamic coupling, to keep it safe, and if there are something wrong, the connection with main motor and the bowl will be intermited.
The hydrodynamic coupling is used to keep the bowl and the motor same speed or with same rate. Electric motor is firmly connected
to the pump section of the hydrodynamic coupling, therefore they run at the same angular velocity. Similarly, operating device is stiffly connected to the turbine section of the hydrodynamic coupling, and they run at the angular velocity.
Advantages of GLW355x1250N
1. Rugged scrool drive system
2. Mulriple way to protect itself and the people
3. Advanced technique and best service
4. Good quality and competitive price
This is a list but not only these definitely, rugged design, and easy to maintain, and so on. We have done that. If you want to know more, contact…
2 Pings to "GN Variable Frequency Drive (VFD) Centrifuge"
VFD Decanter centrifuge for sale Says:
May 27th, 2011 at 4:17 am

[...] solids control have VFD decanter centrifuge for sale. Welcome to inquiry us for drilling fluids decanter centrifuge GLW-V-355x1250N . decanter [...]

Brandt HS-3400 centrifuge VS GNLW363VFD centrifuge Says:
June 8th, 2012 at 11:08 pm

[...] Variable frequency drive(VFD) [...]
3 Responses to "GN Variable Frequency Drive (VFD) Centrifuge"
1. keno Says:
April 17th, 2012 at 10:48 am

Pretty decent post.Quite looking forward to reading more. Impressive.

2. Celdimmique Says:
December 20th, 2012 at 8:26 pm

ExroECXO Mbt Chaussures Lyon
ekirMEZlz http://canadagooseoutlet1.bligoo.es/
rqccimbvmb Canada Goose Outlet Toronto
DHQsFgwkt cogivi Lancel Italia
VhkDBAVMmxw FrxxZTOZ Zumba Fitness
qfgqUCEeu CjbtLYWE http://canada-goose-sale.npage.de/
enfoOASnr

3. barkley foamposites,barkley posite max,barkley posite for sale,nike barkley,nike posites Says:
May 15th, 2013 at 8:13 am

We'll quickly grasp a person's rss after i can't to get a person's mail subscription website link or perhaps e-newsletter service. Complete you've almost any? Nicely make it possible for me know in order that I might just sign up to. Thanks a lot.
Leave a Reply