Most of client will choose skid mounted mud system, to put the mud system on the truck for transportation from site to site. Some client will prefer to trailer mounted mud system with single axle or double axles. The trailer mounted mud system allow client to move it by truck head, to hook the mud system and pull it from site to site, which will be much convenient from the close project. Recently, we have one client from North Africa. The client need mud system for water well drilling and we already discuss the inquiry for about one year, finally the client give us order for one set 500gpm trailer mounted mud system. We source the trailer from trailer company, and weld the tank upside by ourselves, and then match the proper model shale shaker, mud cleaner, pumps, hopper etc. to complete the mud system.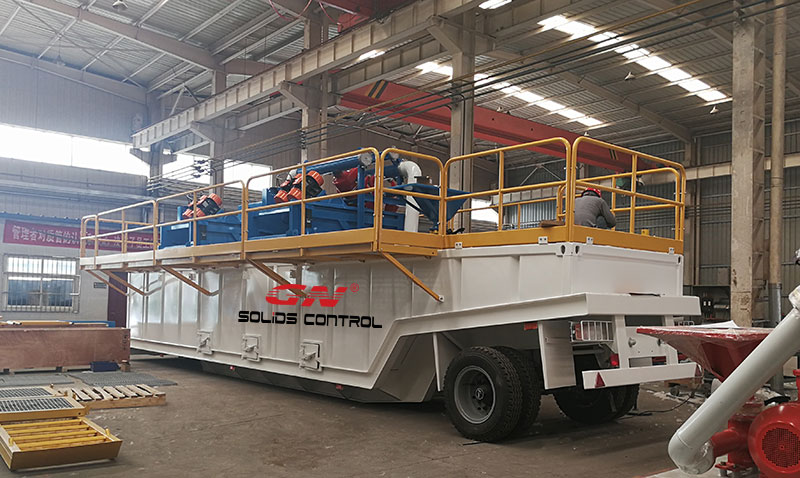 1) 500gpm shale shaker & mud cleaner
GNZS703 shale shaker is 3 panel shaker, popular used for horizontal directional drilling, or water well drilling. The shaker with API40 shaker screen can remove big solids in the drilling mud, and the mud cleaner shaker with API120, can remove the fine solids.
The mud cleaner is equipped with 1ea 10inch cyclones and 8ea 4inch cyclones, to match the 500gpm treating capacity. The cyclones material is by PU, much more anti-corrosive.
The shake shaker and deck shaker of mud cleaner are linear motion shale shaker absorbed advanced tech at home and abroad ,as well as integrated GN own design. GN has different model shakers to meet the variable demand from clients. With over 10 years brand, GN get feedback from client and proved the advantages of GN shakers with compact design, wide screen area, good conductance, high G force, cost-effective etc.
2) Centrifugal pump for feeding cyclones
GN centrifugal pump have improved to new models with below advantages:
 Mechanical seal with much longer lifetime
 Completely equivalent to Mission Magnum
 Impeller and pump casing are made from anti-corrosive material
If you need more information about GN Solids, pls contact us freely.
Leave a Reply