In the past, CIPPE 2018 in March of this year, GN Solid Management, showed an installation to install an oil sludge set to 1 set. This unit has all the necessary functional device for extracting oil from the oil sludge; it can be used in a small-scale oil sludge purification system or as a demonstration device for the user to check if the GN solution can solve the problem of oil sludge disposal. Many visitors to the GN booth have shown their interest in trying this equipment. One of the visitors contacted GN several days after the show and placed an order for this system. This sludge treatment unit consists of a pre-mix procedure, two-phase separation and three-phase separation. The main technologies used are flushing flushing for demulsifying and separating oil for different phases, such as oil, water and solids. The goal is to recover as much oil as possible and to get as little waste as possible.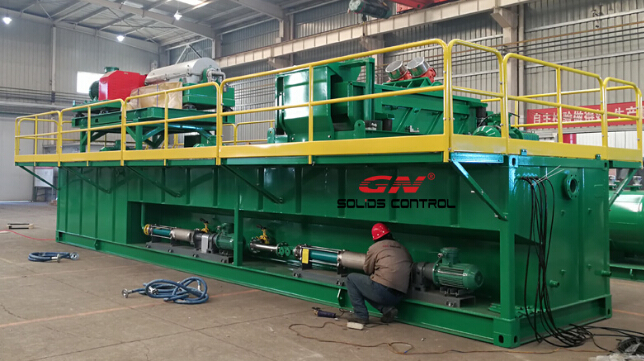 Customer feedback suggests that the treatment of waste sludge, installed at GN, provides an effective solution for treating waste oil sludge in a well at the place of its installation. They are considering the possibility of starting further cooperation with GN by placing an order for a GN-type sludge treatment system with a large processing capacity.
The pre-mix procedure applies a pre-mix tank with a heat system, as well as a chemical dosing system. Oil sludge must be with a certain liquidity for easy transportation and mixing with chemicals.
The GN Mini Shale shaker GNZS752 and the 9-inch GNLW224 decantation centrifuge are basic equipment used in two-phase separation mode, this is the main GN product that has been approved with good performance and quality. sludge.
The images here show oil, water and solids discharged from the three-phase separation process. In this step, a disk centrifuge is used to receive the liquid discharged from the decantation centrifuge. When operating at high speeds, a disk centrifuge can effectively recover the oil from the slurry. GN can provide a larger capacity sludge treatment system to help the customer recover the oil and get more benefits. For more information, please feel free to contact GN
Leave a Reply