GN Solids Control is a manufacturer of solid-liquid separation equipment and waste mud environmental treatment equipment, and can provide various qualification certification and quality certification equipment worldwide. It has been exported to more than 70 countries and regions, and its products are distributed in many mud treatment construction sites around the world. Some parts of the GN Solids Control waste mud treatment system are: 1. Dry sieve. 2. Centrifuge. 3. Flocculation and drug treatment equipment. 4. Mud conveying equipment. 5. Mud mixing module. 6. Store the transfer module. The most important core equipments are dry sieve module, centrifuge module and flocculation dosing module. This paper mainly introduces flocculation and dosing module system.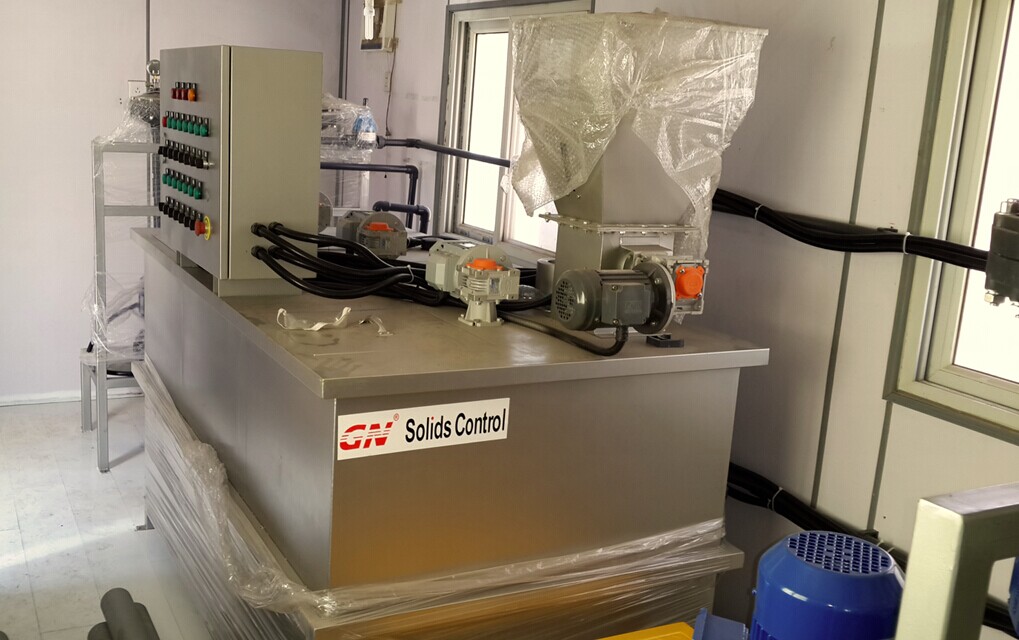 GN Solids Control GNDU2000R Series The 20-foot-box flocculation dosing system is automatically equipped with a chemical flocculant to assist the decanter centrifuge to separate fine particles from the mud, resulting in relatively clean water for wastewater reuse. Or used for sludge separation, separation of oil and cement and other fine particle separation needs.
By using the GN Solids Control GNDU2000R series of 20-foot containerized flocculation dosing system with GN Solids Control high-speed variable frequency decanter centrifuge, the ultra-fine particles in water-based drilling mud can be separated to meet the requirements of recycled water. For waste mud treatment systems, the Crown Flocculation dosing system is especially important to help the centrifuge process the mud to be clean and to reduce the generation of drilling waste. Thereby reducing the overall disposal cost of the post-disposal slurry.
Description of the operation of the GN Solids Control PAM automatic flocculation dosing system:
During the automatic dispensing of the medicament, the operator adds the medicament to the medicament configuration box. After starting the system, the medicament is mixed with water and first enters the stirring solvent tank, where it is thoroughly stirred and mixed by the agitator; After the box is full, it will overflow to the ripening solvent tank, and then mix and mix again here; after the ripening solvent tank is full, it will overflow to the drug storage box, and the configured liquid can be added. The medicine pump is put into the dosing point, and the fine particles are flocculated to accelerate the precipitation to maximize the solid discharge in the waste mud.
More question,welcome contact GN solids control
Leave a Reply