GN solids control Skid-mounted waste treatment system is based on customer needs, in accordance with customer requirements for the treatment of mud after the design, manufacture for the recycling of waste sludge skid handling system. The main core equipment of this system is GNZS594E-HB high-frequency vibrating screen for coarse particle screening and GNLW363C-VFD high-speed decanter centrifuge (with 20-foot flocculation dosing system to improve the processing effect of centrifuge) and system Feed screw pump, skid mounted tank, mixer and so on. According to the specific requirements of customers on the discharge, you can adjust the dosage of different flocculation agents to ensure that the expected delivery of the material to achieve the desired effect.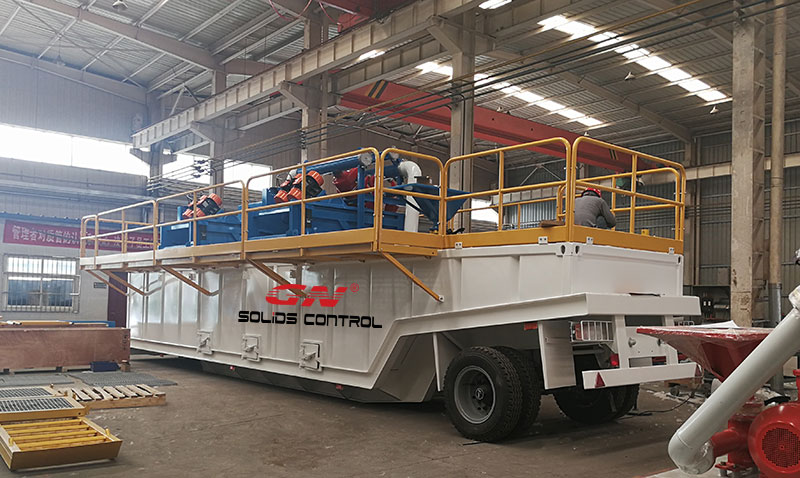 System components and parameters:
The system has two warehouses: one is a pre-mixed screening warehouse, one is a centrifuge liquid collection warehouse; the whole system can be processed by a centrifuge to remove most of the solid particles above 2μm.
Premix screening silos equipped with a stirrer and heating lines to ensure adequate mixing feed and improve the degree of demulsification mixing agent.
System design mud capacity: 30 m3 / h, to adapt to the environment: -15 ° ~ 50 °
Adapt to mud viscosity: ≤ 45 S.
Adapt to climatic conditions: rain, snow, foggy weather.
Continuous operation at rated power.
Working height range: Normal working at altitude ≤2500 m, working efficiency at ≥2500 m above sea level.
All the equipment of the system is a mature technology and new product, and the technical performance meets the relevant requirements of SY / T5612-2007 Design Specification for Solid Phase Control Equipment for Oil Drilling Fluids.
Machine design is reasonable, compact structure, flexible combination, advanced technology, easy operation and maintenance, performance, safety and reliability.
System is easy to dispatch, transfer and transport, to meet the domestic and foreign road transport regulations.
More question about this system,please contact GN solids control
Leave a Reply