GN Solids Control is an equipment manufacturing company focusing on solids control and waste treatment for nearly ten years, and its equipment is exported to many countries and regions. Refined manufacturing standards and perfect after-sales service have won the recognition of customers, and won the honorary title of national high-tech enterprise.
Recently, the trenchless mud recovery system and mixing tank produced by GN:
1. 2 sets of GNMS-500D mud recovery system
The mud recovery system has a processing capacity of 120 cubic meters per hour and is equipped with a ten-inch cyclone. Under the action of centrifugal force, the non-excavated mud is separated from the solids in the mud. The system belongs to the secondary purification, the mud separated from the cyclone falls onto the vibrating screen and then undergoes physical screening to complete further separation. The processing accuracy is 40 microns, and the system volume is 1.5 cubic meters.
2. 1 set of mixing tank
The mud mixing tank and the mixing funnel of the slurry are designed on a skid to make transportation more convenient. Two mud mixing hopper are designed in parallel, which can mix slurry at the same time, or use jet funnel separately to meet the demand of unable to mix slurry. The bottom of the mixing tank is designed with a sand cleaning door to facilitate the cleaning of the tank body after the equipment is used.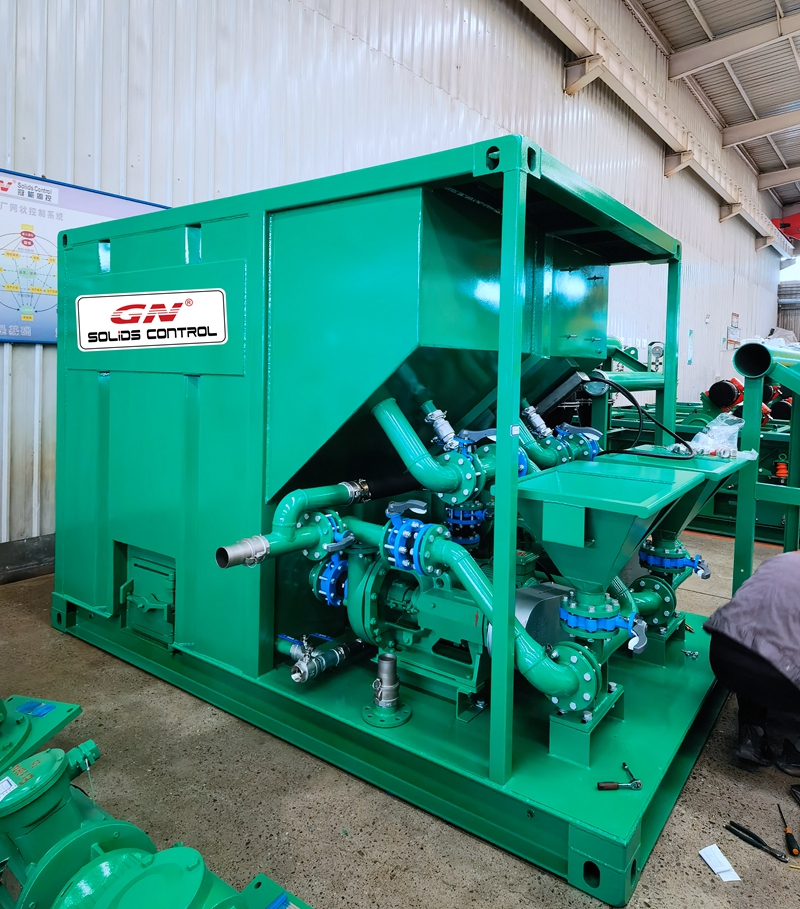 3. 1 set of double-layer shale shaker
GN GNZS706F shale shaker, the vibration trajectory is linear, or it can be configured according to customer needs, linear ellipse double trajectory. The shale shaker is a double-layer screen with three upper and lower screens. The upper sieving area is 2.03 square meters and the lower is 2.63 square meters. You can follow up the demand and choose different mesh screens for the upper and lower layers.
If you have a need of this type solution, you are welcome to call at any time.
Leave a Reply