GN Solids Control is a leading manufacturer of domestic solid control and mud landing equipment industries. At present, more than 70 countries and regions are using mud solid control equipment and mud landing system produced by GN Solids Control. GN Solids Control products are well received by domestic and foreign customers for their excellent separation effect, stable product quality and perfect after-sales service. Recently, GN Solids Control newly produced a set of mud-free floor equipment is preparing to send to well-known foreign oil service companies.
At present, GN Solids Control has developed two layout types of mud-free ground equipment for the complicated wellsite situation in China:
The first type is a compact skid-mounted complete system: the debris spinner and the centrifuge are respectively placed on the two ends of the mud tank, and the electronic control system and the slurry supply screw pump are arranged in the gap. This complete system can not only facilitate the lifting and transportation of customers, but also greatly reduce the well site space required by the equipment.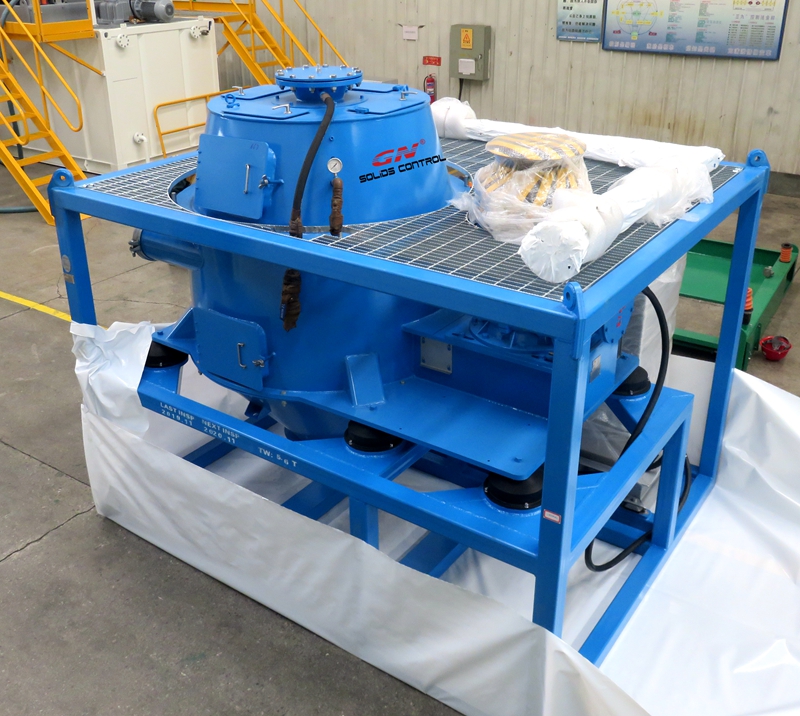 The second is an independent modular unit system: this scheme arranges the vertical cuttings dryer, centrifuge and drying screen on different pry bases and lifting platforms respectively. This scheme can be applied to the more complex geological conditions. The operator can match different mud non-ground equipment at will according to the different conditions of the waste mud, and maximize the resource utilization as much as possible.
GN Solids Control mud non-fall system mainly includes the following main equipment: drill cuttings dryer module, drying screen module and centrifuge module.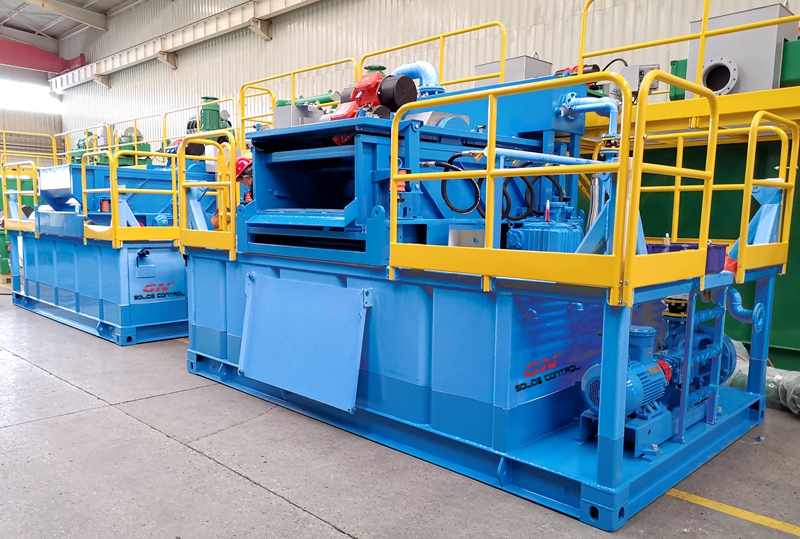 1. The GN Solids Control spin dryer is mainly used to process debris particles in water-based mud, oil-based mud and composite-based mud. In the process of oil-based mud treatment, GN Solids Control spin dryer can control the oil content in the cuttings between 3% and 5%. These remaining cuttings can reach the emission standard after being processed by the TDU module produced by our company.
2. The GN Solids Control dryer shaker module is composed of a drill cuttings drying screen and a mud receiving tank. It can process the waste drilling cuttings discharged from the GN Solids Control equipment, and discharge the dry drilling cuttings for further post-processing. The collecting tank located at the bottom of the drill cuttings drying shaker is of conical design, which is easy to clean and not easy to accumulate sand. It can receive the mud processed by the drying screen, and there is a slurry outlet at the bottom of the tank body that can be connected to the centrifuge slurry pump.
3. The centrifuge bracket module is used to place the centrifuge as a working platform. When the platform is transported, it is reduced to the minimum, and the total height can meet the road transportation without disassembling the centrifuge. After the working platform is raised, it can meet the slag and liquid discharge requirements of the centrifuge.
If you are interested about this news, welcome contact GN Solids Control to get more detail
Leave a Reply