Recently, we got tender invitation from Shell in Middle East. We also have cooperation with Shell China. They have some special requirement on solids control equipment.
Drilling fluids Shale Shaker
Two shale shakers capable of handling 10.5 ppg mud weight at 1000 gpm.The electric motors for shale shakers DO NOT HAVE TO BE ZONE CLASSIFIED AS OPERATION IS NOT IN A LIVE HYDROCARBON ENVIRONMENT. Common header tank for all shale shakers. Mud return flow lines shall enter from the rear at the base of each shale shaker header tank, mud gas sensor to be installed in the header box and readings screen within the drillers control cabin and Cement bypass to be installed. Supply screens for the shale shakers as per the clients recommendations, screen sizes will be supplied at later date.
GN Solids Control Shale shaker, GNZS594E-HB can meet the requirement for this tender file.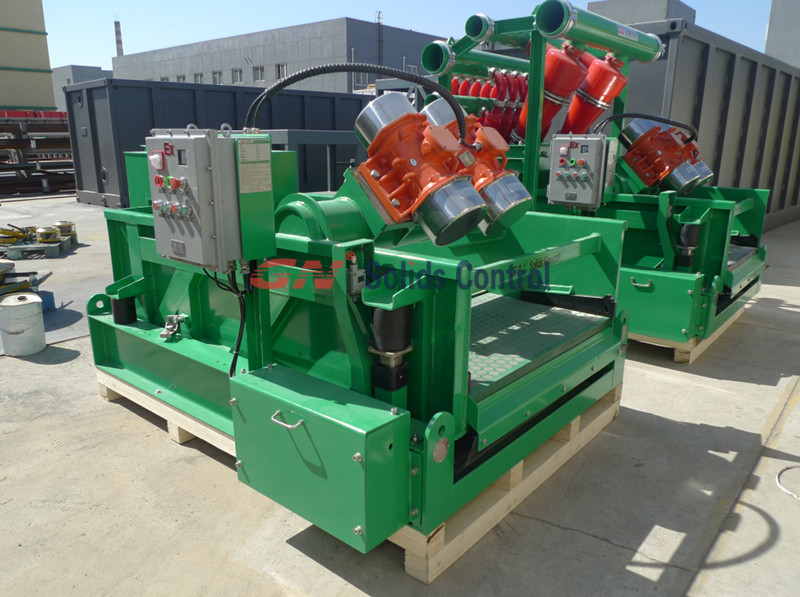 Drilling fluids Mud Cleaner
Adequate mud cleaner with 16 x 4″ cones circular manifold and electrically driven centrifugal pump (also for heavy mud). Pump drive: AC-100HP. Capable of handling 100% of max. Circulating rate. Cone underflow (solids or liquids) may be taken to waste pit. Inlet pipe work to have a clear straight run of at least 1m before inlet manifold of mud cleaner. Discharge into next compartment downstream of suction tank. Only screen manufactured or approved by mud cleaner manufacturer to be used.
GN Solids Control Mud Cleaner, GNZJ594E-3S16N can meet the requirement from this tender file.
Drilling fluids Decanter Centrifuge
One centrifuge and mono pump to remove drilled solids for the mud system suction and discharge into separate pits. Flow line from bell nipple to shale shaker header box must have flow sensor fitted and readout from this tie into the drillers control cabin. Flow line to be a minimum of 10" ID
GN Solids Control decanter centrifuge, GNLW452 or GNLW363BG can meet the requirement from this tender file.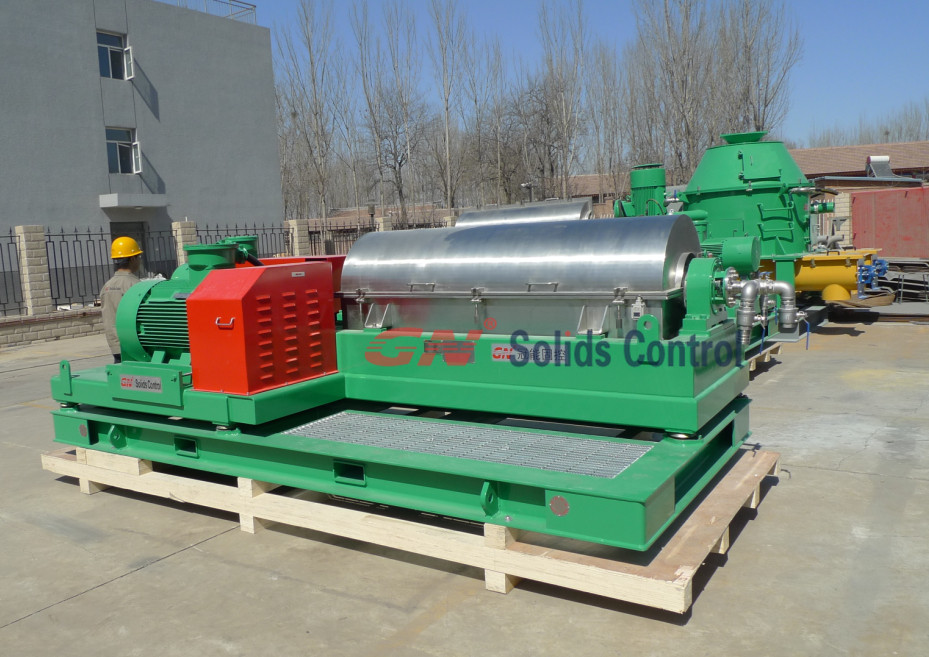 GN Solids Control have got many big tender purchase contract from overseas and domestic market. The customer generally will repeat the order after use GN Solids Control Equipment.
GN big project for PDVSA: http://www.gnsolidscontrol.com/drilling-fluids/gn-shale-shaker-variable-speed-decanter-centrifuge-pdvsa
GN big project for KOC: http://www.gnsolidscontrol.com/drilling-fluids/oil-sludge-separation-system-kuwait-oil-company
GN big project for CNPC: http://www.gnsolidscontrol.com/drilling-fluids/zj50-rig-mud-cleaning-system-cnpc-liaohe-oilfield
GN big project for CNOOC: http://www.gnsolidscontrol.com/drilling-fluids/750hp-workover-drilling-rig-xj750-mud-tank-solids-control-equipment-cnooc
3 Pings to "GN Solids Control Equipment for Shell in Middle East"
GN Solids Management Gear for Shell in Center East | Posts Says:
July 18th, 2014 at 1:34 am

[…] GN Solids Control Equipment for Shell in Middle East is a submit from: Mud Solids Control Equipment […]

GN mud tank system working in Center East | Posts Says:
February 1st, 2015 at 3:26 pm

[…] GN Solids Control Equipment for Shell in Middle East Just lately, we obtained tender invitation from Shell in Center East…. […]

Solids Management Gear for 1000hp oil drilling rig | Posts Says:
March 3rd, 2015 at 4:26 pm

[…] GN Solids Control Equipment for Shell in Middle East Just lately, we obtained tender invitation from Shell in Center East…. […]
Leave a Reply