Africa is a good region for import & export business. North Africa and west Africa is full with oil & gas resources, countries like Nigeria, Libya, Egypt and Algeria. There are many mud service companies and solids control service companies and drilling companies there, which can have lots of business with GN Solids Control. South Africa and Middle Africa is full with golds/ diamond resources, countries like South Africa, Tanzania, Ghana etc. There are many diamond drilling rigs service companies and HDD contractors.
GN Solids Control is a China leading company who focus on solids control equipment. All the separate equipment can combine into oil drilling mud system or compact and economy mud recycling system which is professional for small rigs.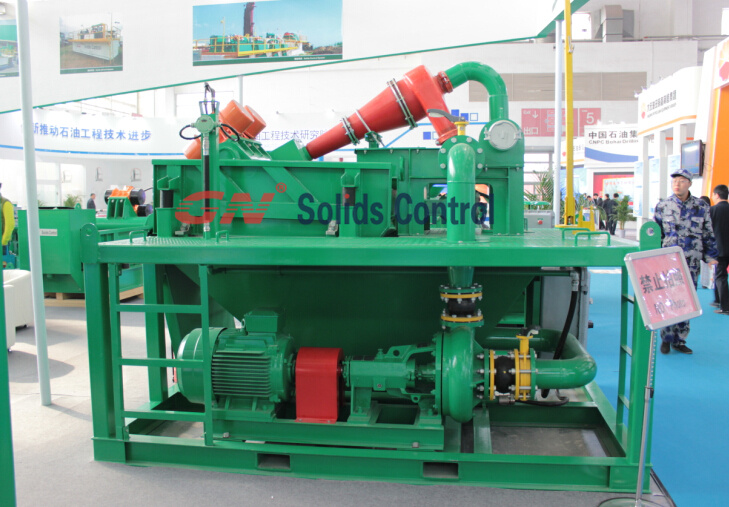 GNMS-500D economic mud recycling system.
This mud system is with treating capacity of 200gpm. The mud system is equipped with below parts.
one double deck shaker, upper deck with 1 pcs bigger shaker screen 700cm X 1250cm; down deck with 2 pcs small shaker screen 750cm X 900cm X2.
One desander cones, 10inch. The capacity of this unit is 500gpm
One 37kw centrifugal pump for feeding desander cone.
One submersible slurry pump for feeding the shaker. This is for option. The customer can buy from GN Solids Control. Or the customer can prepare it themselves.
GNMS-200D economic mud recycling system and GNMS-1000D economic mud recycling mud system is also available. The combinatio is almost same as GNMS-500D.
GNMS-500D working principal
The pump suck from the slurry pit and feed for shaker down deck screen. The large solids discharged outside, the fluids go down to the mud tank. Then, the fluids is going to feeding desander cones with power from centrifugal pump. The clean parts go up and transfer out for reuse and the dirty parts with lots of solids go down to the upper deck shaker for again treatment. This is the circulation.
GN Solids Control can offer the most reliable performance and economic mud recycling system for small drilling rigs, like water well drilling rig, diamond well drilling rig, gold well drilling rig, geothermal drilling rig etc.
Warning
: chmod(): No such file or directory in
/www/wwwroot/oilfield.gnsolidscontrol.com/wp-includes/plugin.php(390) : runtime-created function
on line
1
Warning
: chmod(): No such file or directory in
/www/wwwroot/oilfield.gnsolidscontrol.com/wp-includes/plugin.php(397) : runtime-created function
on line
1
Warning
: chmod(): No such file or directory in
/www/wwwroot/oilfield.gnsolidscontrol.com/wp-includes/plugin.php(402) : runtime-created function
on line
1
Warning
: chmod(): No such file or directory in
/www/wwwroot/oilfield.gnsolidscontrol.com/wp-includes/plugin.php(410) : runtime-created function
on line
1
Warning
: chmod(): No such file or directory in
/www/wwwroot/oilfield.gnsolidscontrol.com/wp-includes/plugin.php(415) : runtime-created function
on line
1
Warning
: chmod(): No such file or directory in
/www/wwwroot/oilfield.gnsolidscontrol.com/wp-includes/plugin.php(423) : runtime-created function
on line
1
Leave a Reply