Hebei GN Solid Control is a professional manufacturer of drilling mud solid-control equipment. It currently produces equipment in more than 70 countries and regions around the world, providing mud solid-control equipment for drilling services for dozens of oilfield service providers around the world. . The after-sales service has a global radius, responding 24 hours a day to customers around the world, and fulfilling the after-sales service commitment within 72 hours. Four important branch structures have been established around the world, with the United States, Russia, Dubai, and North Africa as parts supply and after-sales services.
Next, we will introduce a very simple and practical part of the mud mixing system: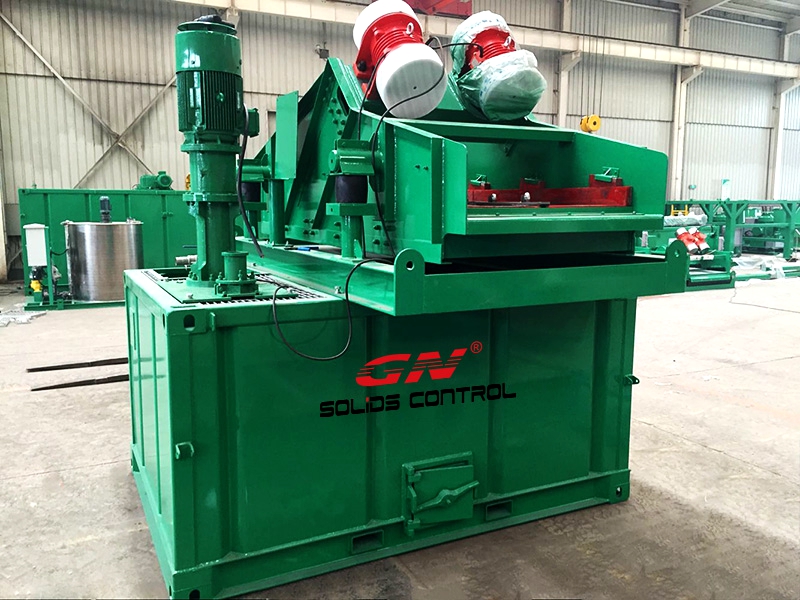 1. Armoured mud tank device: size 8000*2600*2200mm, volume 20 cubic meters, armored design for transportation and hoisting and mobile construction projects. The round mud mixing tank has no dead angle design, the mud is evenly stirred, and the mud condition is beneficial to the drilling construction service. It includes convenient design such as ladders, walkways, guardrails, manifolds and valves.
2, mud pump/centrifugal pump/sand pump: GNSB6 * 5C-13J, motor power 45kw, delivery capacity 150 cubic / hour. The main purpose is to transport the mud to carry the mud material in the funnel into the mixing tank.
3. Mud mixier: GNSLS045A, mainly used for adding dry powder mud materials.
4, mud agitator: GNJBQ075DD, motor power 7.5kw, speed 60 rev / min, double impeller, mainly the mixing and miscibility of the dry powder slurry material and water.
5. Electronic control system: It is mainly to control the explosion-proof control system of the above equipment that needs mud mixing work.
More question,welcome contact GN solids control
Leave a Reply