Oily sludge treatment systems from GN Solids Control are mainly used to treat oily sludge from drilling rigs, refineries and tank bottoms. It is specially designed for the treatment of oily sludge with high viscosity and high solid content. After being treated by GN oily sludge treatment system, three products of oil, water and solid waste can be obtained.
Last week, GN Solids Control provided international customers with a complete set of oily sludge treatment equipment, model GNOST-05B, whose main configuration includes: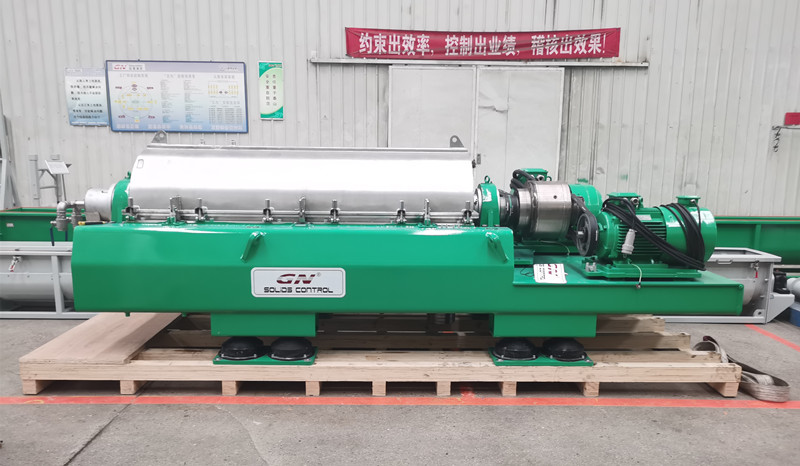 1. 20-foot premix tank module
Because the sludge material that the customer needs to deal with has high solid content, high viscosity and poor fluidity, GN Solids Control has set up a pre-mixing tank module, and the tank surface uses 2 mixers and has a heating function at the same time. The material has good fluidity by stirring and heating and dilution, so that it can be transported to the vibrating screening module through a submersible pump.
2. Shale shaker module
The shale shaker produced by GN Solids Control can separate larger solid particles from the diluted sludge. This system uses a double-layer shale shaker, which has a better sludge screening effect. At the same time, GN also produces matching shaker screen to be used together. The screens produced by GN Solids Control conform to the API RP 13C standard, and are not only used by many domestic companies, but also used by a well-known foreign brand of shale shaker.
3. Decanter centrifuge + disc separator module
After being screened by the GN Solids Control vibrating screen, the sludge enters the decanter centrifuge for two-phase separation. The oil content of the solid phase is less than or equal to 5%, and the liquid phase is mainly oil and water, with a small amount of oil in the solid phase. The liquid phase is transported to the disc separator through the screw pump, and the three phases of oil, water and solid are obtained after being processed by the disc separator. Among them, the purity of oil products can be as high as 97%. Oil content in water is less than 3000ppm.
The oily sludge treatment system designed by GN Solids Control is of great significance for waste treatment, and can be used for reduction treatment while recovering a large amount of oil. Energy saving and emission reduction, waste utilization, and efficient recycling are in line with the current national requirements for the environmental protection industry.
If you have any needs about oily sludge treatment equipment and solutions, you are welcome to call GN Solids Control.
Leave a Reply