In November 2019, GN Separation was divided into two routes. In addition to participating in the 2019 Indian IFAT environmental protection exhibition in India, another colleague brought separation conveying equipment (including a decanter centrifuge and a solid vacuum pump) to participate in the 2019 Italian Green Technology Environmental Protection Exhibition. GN Separation Separation and Conveyance Equipment Co., Ltd. is a subsidiary of GN Solids Control. It continues to focus on the development and manufacture of separation and conveying equipment for the environmental protection industry.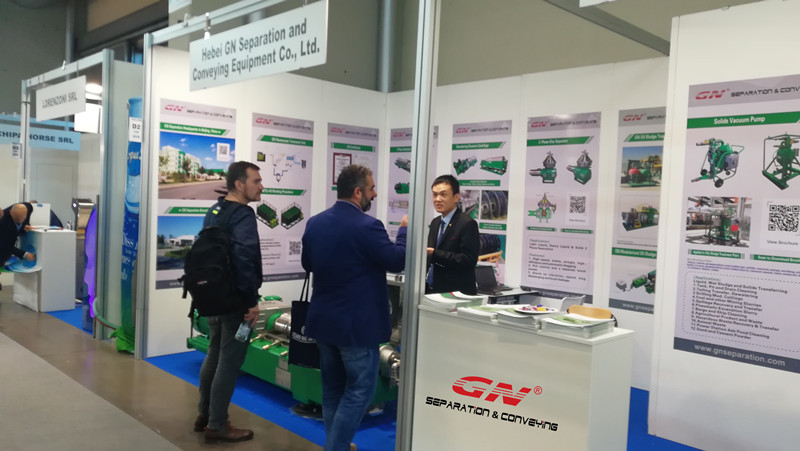 On November 5-8, 2019, GN Separation placed the GN "Star Product"-GNLW224EP-VFD Series Horizontal Screw Centrifuge-GNSP-10B Solid Vacuum Pump during the Green Technology and Environmental Protection Exhibition in Italy 2019 GN Separation integrates R & D, design, manufacturing, sales and service. Its products serve more than 60 countries and regions in the world. It has formed a well-known domestic and foreign high-end distribution brand, GN Separation. 70% of the company's products are exported to the international market and have been sold to more than 60 countries and regions in the world, including the United States, Australia, the Middle East, Russia, Europe, Southeast Asia and other regions.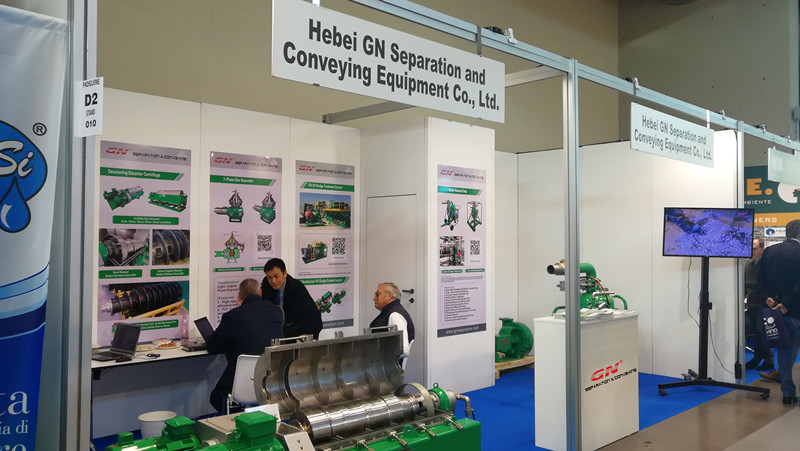 GMLW224EP centrifuge is one of the smallest industrial centrifuges in the world. It can be used as a test widely dispersed drilling mud treatment, sewage environmental protection treatment, oily sludge treatment, chemical and food and beverage industry solid-liquid separation. GNLW224EP-VFD series decanter centrifuge is designed for a single processing capacity of 5m3 / h, and its design maximum variable is 5000RPM. Adopting frequency conversion control, the conventional conversion is adjustable between 0-4500RPM. The maximum separation factor is 3077G, and the diameter of the separated particles is 2-5 μm. GNSP-10B solid vacuum pump is a high-definition and strong suction vacuum conveying pump, also called solid conveying pump or drill cuttings conveying pump. Its unique structure design enables it to work in the most difficult environments, with low maintenance rate and high speed. Conveying more than 80% of solid phase materials and high specific gravity materials. The high-efficiency Venturi device can generate up to 10 meters of water column vacuum to transport materials under strong air flow, with almost no wear parts. The pump body has a compact structure and is suitable for conveying high-density materials. Commonly used for drilling cuttings and oily sludge.
If you want more information, please contact us
Leave a Reply