As the crude oil price is lower, many drilling company stop drilling operation and are busy with oily sludge. They want to treat the oily sludge, recover valuable oil, and reduce the impact on the environment. Government in every country also has related regulations on environmental protection.
After about half year communication with different oily sludge client, we promote oily sludge treatment system with shaker, centrifuge, chemical dosing system, and O/W separator. The system includes 4 parts.
Part 1: Mixing tank with shaker and agitators
The shaker on the tank is long deck shale shaker with hot line inlet water/steam, which can help to improve the separation performance of shaker screen. We also advise coarse mesh screen for longer working life, and to avoid sludge stick on the screen.
After separation of shaker, the liquid go down to the mixing tank, the agitator will suspending it. Meanwhile, the chemical will coming from chemical dosing system. Here, the oily sludge will be diluted and have better separation.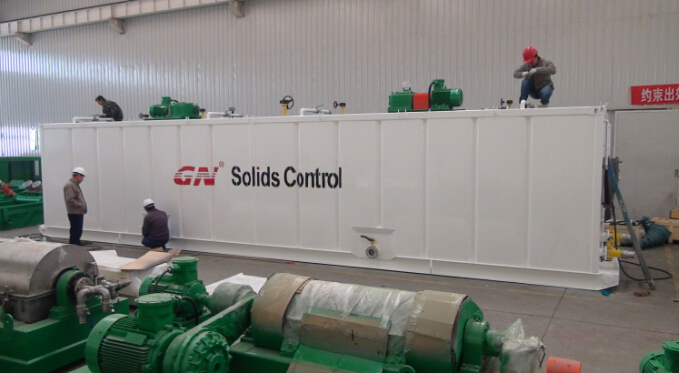 Part 2: Chemical dosing system
The chemical dosing system including PAM three tank dosing system, acid tank etc.
Part 3: Centrifuge on telescopic skid
After the mixing tank, the oily sludge will be transfer to centrifuge system. High speed centrifuge can separate the fine solids, discharge down to skips, and the clean liquid go to slant plate clarifier.
We recommend most popular centrifuge model GNLW363 series. The 14inch centrifuge is equivalent to Swaco 518 centrifuge or Derrick DE1000 centrifuges. We have lots of client shift from Swaco/Derrick to GN for centrifuge requirements.
Big bowl big capacity centrifuge is also available, GNLW553 centrifuge is 22inch centrifuge with big volume.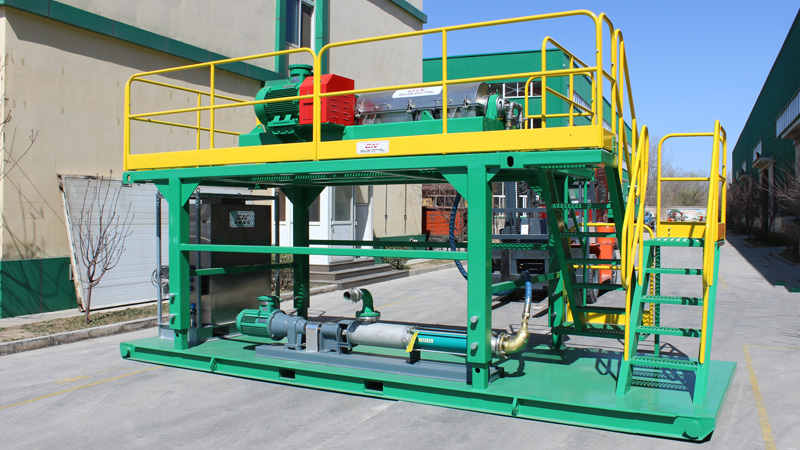 Part 4: slant plate clarifier and O/W separator
Via slant plate clarifier, the solids will be removed. Then, the liquid go to O/W separator, here the liquid will be separated into oil and water. Oil pump to oil tank; water pump to water tank.
If you are in need of solids control equipment, pls contact us freely.
One Response to "GN Centrifuge and Shaker for Oily sludge treatment"
1. Lakiesha Says:
November 11th, 2016 at 7:23 pm

Whoever wrote this, you know how to make a good areclit.
Leave a Reply