GN Solids Control just receive order from waste management service company (call this client WMSC for short in below chapter). WMSC is waste management service company with many years jobsite experience, their main client is CNPC and SINOPEC. With China new policy on environmental protection, WMSC is faced with booming business project with CNPC & SINOPEC, requiring more waste management equipment to support their project.  As China leading manufacturer for solids control equipment & waste management equipment, GN Solids Control definitely become their main supplier.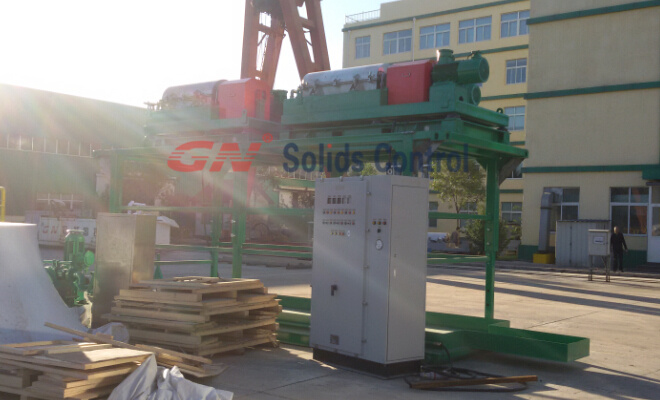 WMSC already use our decanter centrifuge & vertical cuttings dryer & high G dryer for over 2 years for waste management project. They give high praise on GN equipment. Pls see more details of below.
Waste management decanter centrifuge: GNLW363CG & GNLW363CG-VFD.
GNLW363CG is GN 3rd generation decanter centrifuge. After many years jobsite experience and production experience, GN decanter centrifuge show super good performance when treat drilling mud with very high sand content, even better than US brand centrifuge / Europe brand centrifuges, per overseas clients's feedback.
GNLW363CG is fixed speed & high speed centrifuge (0-3800RPM). GNLW363CG-VFD is variable speed & high speed centrifuge with PLC VFD control panel to get infinitely variable speed, much more convenient for use when client need different speed for different jobsite conditions.
Waste management vertical cuttings dryer: GNCD930D
GNCD930D is GN 4th generation vertical cuttings dryer ( or call Verti G). GN vertical cuttings dryer also show good performance when treated oil based mud drilling cuttings at rigsite, same jobsite mud conditions when CSI dryer working there.
Waste management High G dryer: GNZS594HGE-LD
GNZS594HGE-LD is GN new design high G dryer and already with jobsite experience for over 2 years. The stable working performance and easy operation / trouble shooting win many repeated order from overseas client & domestic clients.
WMSC with new project coming, repeat order in August, 4th 2015 for the dual centrifuge system. They will use the dual centrifuge system for waste management system at land rigs in north part of China.
Leave a Reply